Benjamin Netanyahu apologizes to Kenyans over traffic snarl-up
Israeli Prime minister Benjamin Netanyahu apologizes to Kenyans over traffic snarl-up urging them to focus more on the gains.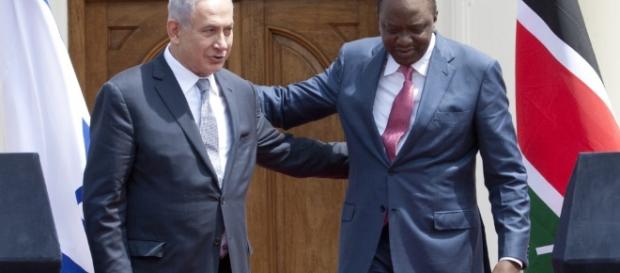 Israeli Prime Minister Benjamin Netanyahu on Tuesday apologized to Kenyans over heavy traffic caused by his presence in the East African nation. At a dinner hosted by the Kenyan president Uhuru Kenyatta in the country's presidential residence the state house, Netanyahu said he was not aware that his visit had caused traffic problems since the roads were empty.
A good sign for the country.
"I don't understand. We are driving through Nairobi, there is no traffic problem!" Netanyahu said since the roads were empty when he was driving, "But nonetheless, I'm sorry…I apologize to the people of Kenya who have to wait....in line." He went on to say that decades have passed whilst they waited for the visit which was "a sign of good things for the country." He was enthusiastic about visiting the country as he feels that the possibilities and needs are "enormous".
He said that there is a need to satisfy needs and that this has happened and in fact it has gone beyond that.
Kenyans take to social media to lament.
On Tuesday, Kenyans took to social media to lament about heavy traffic caused by Netanyahu's visit. Some of the jokes were biblical jokes which compared Israel's journey Canaan to Netanyahu's visit. A tweet by a twitter user Ezra Mokobi read. "Getting to Westlands today is taking people like 5 hrs. Now we understand why Israelite's took 40 years to reach Canaan." While another tweet by another twitter user Goodman Conrad read. "Epic traffic jam in Nairobi because of the Israeli prime minister... He better be bringing the original Ten Commandments"
Not all Kenyans smiled.
However, not all Kenyans found a reason to smile over the traffic gridlock as others took to twitter to question if their president's visit to Israel earlier this year brought Israel to stand still as Netanyahu's visit did to Nairobi.
A tweet by a user going by the handle Lady Mormont read,"How much traffic did Uhuru cause in Israel?" While another twitter user questioned if Israel would reciprocate the treatment given to Netanyahu in Kenya if the Kenyan president Uhuru Kenyatta was to visit Israel. " Waiyaki way and Westlands at large shutdown because of Netanyahu wonder if Israel would close as much as a kiosk for Ukenyattas visit?"
Kenyan politicians among those affected.
Kenyan politicians were not left out of the traffic snarl-up as many complained that the roads had been closed without prior notice. The Nairobi county governor Evans Kidero had to walk for over 5 kilometers to work. Kenyan legislators on Wednesday debated if over the traffic jams with the Deputy Minority leader saying that police were going against the country's traffic act which stated that the public ought to be notified prior to a road being closed down. He then demanded to know who would ensure that the country's economy was compensated due to long hours lost in traffic.
Kenya was the second country visited by Netanyahu, who began his visit to Africa by visiting Uganda before proceeding to Kenya and Rwanda and is set to wind up his African visit in Ethiopia.