The body count of the dead keep rising as workers remove rubble in The Iraq capital.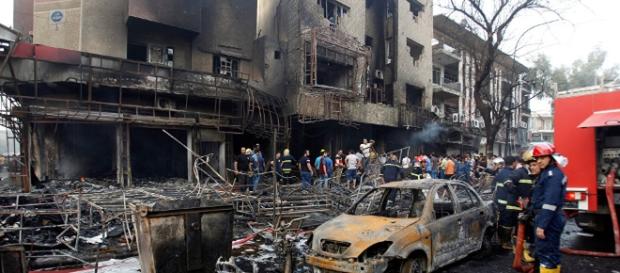 With the constant attack of terror group IS throughout the world, carnage from the wake of their destruction has a lasting effect on the innocent victims families. The latest death count has risen in the last few days. The world is on alert as the terror group gets more desperate, and are more capable of any heinous act. Warnings go all across the world by authorities in all nations to stay alert.
The death toll rises in Baghdad
The death toll from a massive car bombing in Baghdad over the weekend has risen to 281, Iraqi Health Minister Adeela Hammoud said Thursday. DNA samples have been collected from 150 families to identify the bodies charred beyond recognition, Hamoud told al-Iraqiya state TV.
The bomb went off at about 1 am Sunday (2200 GMT Saturday) in central Baghdad's predominantly Shiite district of Karrada. There is no guarantee that workers will not find more, as the numbers grow.
Deadliest attack since Iraq invasion
Numbers of victims rose as bodies were recovered from the rubble in the Karrada area of Baghdad, where a refrigerator truck packed with explosives blew up on Saturday night when people were out celebrating the holy month of Ramadan. More than 300 people were wounded at the time, and many died later in hospital or sustained injuries.The incident was the deadliest since the US invasion of Iraq in 2003 by the United States, headed by President Bush.
What is Ramadan?
Ramadan is an Islamic fast celebrated in the entire month of June. Fasting is one of the Five Pillars of the religion of Islam and one of the most astounding types of the Islamic faith.
Forbearance from Earthly pleasure and checking fiendish expectations and cravings is viewed as a demonstration of acquiescence and accommodation to their God.
ISIS claims responsibility
The terrorist group claimed responsibility for the attack, claiming that a suicide bomber had targeted Shiites, which the extremist group considers as heretics. The previous death toll from the ministry, announced on Tuesday, was 250.
The attack was a show of the groups accessibility in the region
Another explosion struck the same night, when a roadside bomb blew up in the popular market of al-Shaab, a district in north Baghdad, killing two people. When IS attack a city, they try to maximize damage by hitting more than one spot, experts say. The attacks showed that the Islamic State can still strike in the heart of the Iraqi region despite recent military losses, undermining Prime Minister Haider al-Abadi's declaration of victory last month when Iraqi forces dislodged the hardline Sunni insurgents from the nearby city of Falluja.
Click to read more
and watch the video
or