African elephants dangle from a crane in major move in Malawi
Rate this title
Watch as tranquilized African elephants are moved from Liwonde National Park to Nkhotakota Wildlife Reserve in Malawi.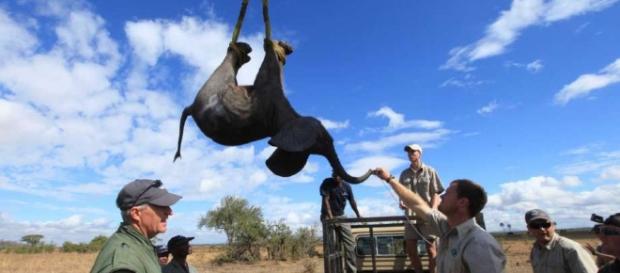 According to a news report by Malawi Tourism, populations of African elephants are in a serious decline due to both poaching and habitat loss. The World Wildlife Fund reports there are now fewer than 470,000 of the gentle pachyderms remaining in the wild, which is reportedly down from several million in the last century. Authorities in Malawi have recently been working hard to fight poaching and habitat problems in the country. However, the country's anti-poaching efforts and wildlife management have caused another problem – overpopulation – requiring some of the elephants to be moved to other areas of the country.
How do you move 500 wild African elephants?
First animal experts had to tranquilize the elephants by dart from helicopters, flying over Liwonde National Park – home to 800 of the threatened pachyderms.
Then it was necessary to load the huge beasts by crane onto trucks, ready to haul them to the Nkhotakota Wildlife Reserve, 185 miles away. According to Buzzfeed, with Liwonde National Park struggling to accommodate the elephants, this made it necessary to move them to a safer location. Elephants are also being moved from the Majete National Park, where a similar problem is being experienced.
The move is a delicate process.
According to the organizers of the $1.6 million project, moving these multi-ton African elephants is a delicate process that works in several phases. African Parks is moving 500 elephants during July and August – over the dry season – and will repeat the process next year. It is necessary to run the operation in the dry season, to allow the large transport vehicles to manage the rugged terrain.
Once moved, the "surplus" African elephants from the national parks will populate Nkhotakota Wildlife Reserve, where reportedly the population has been practically wiped out by poachers.
Watch the whole process in the video below.
All the way, animal conservationists cared for the elephants, monitoring their breathing and ensuring no injuries were sustained.
More animals to be moved to repopulate the wildlife reserve.
Reportedly, after the elephants have been introduced to Nkhotakota, they will gradually be released into a larger reserve. It turns out this will not only involve African elephants, as organizers are also planning on relocating another 1,500 Animals of various species in an effort to repopulate the reserve.
Click to read more
and watch the video
or