Twitter race-war erupts after eNCA News fail to show pictures of Pistorius dead girlfriend
Rate this title
The televised Oscar Pistorius trial has divided a nation and finally some media outlets are showing some restraint.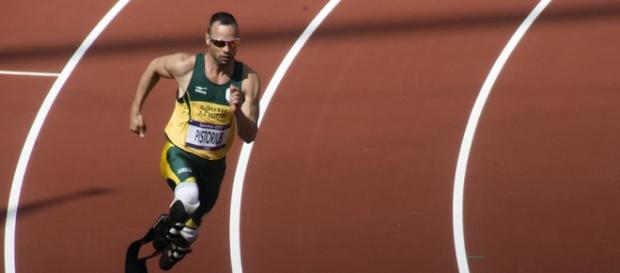 When Oscar Pistorius shot his girlfriend three years ago, media across the world went into a frenzy. The televised court case became leading news for years. Vicious Facebook posts, tweets, and blogs divided the country immediately. Those who showed any kind of feelings that Oscar might not have deliberately killed his girlfriend Reeva were trashed publically and hate levels rose to an incredible intensity. The Supreme Court overturned his culpable homicide conviction to murder and provided armchair lawyers across the world an opportunity to abuse each other on social media, and the mainstream media rushed to flog the dead horse again. With his sentencing grabbing international headlines again, a row has erupted on Twitter over a news outlet that has refused to publish photographs of Reeva's dead body.
Pictures release requested by Reeva's family.
The family of Reeva requested that the pictures be broadcast – despite the fact they claim family children were traumatized by her death. After they were released for media distribution, the Sun (UK) was one of the first to publish the images, and was followed quickly by Australian media Au.com who even posted up pathetic images of Oscar tottering around the court without his prosthetic legs. The court sensationalism is becoming tasteless and distressing to many people. eNCA's decision not to post the photos was greeted with thanks and relief by Oscar Supporters, but by bitter recrimination from many South Africans.
[EDITORS NOTE] #eNCA is in possession of the crime scene photos of #ReevaSteenkamp. We have chosen to not broadcast or publish them.

— eNCA (@eNCA) June 15, 2016
Attitude shift.
A tweet attributed to 2012 Olympic torchbearer Glen Scott, spoke for many people around the world who have watched with mounting horror, the lengths the media and the state prosecution have gone to, to destroy a man described as needing to be in a hospital by a leading professor of psychology.
#OscarPistorius #Pistorius #Oscar #ReevaSteenkamp #OscarPistoriusSentencing pic.twitter.com/8Fzjn08b8A

— Glenn Scott (@GlennScott8) June 15, 2016
The race divide.
eNCA is being vilified as being racist and catering to the white community by many people in South Africa, whilst other people are relieved that at last some sanity is prevailing. One of the very first news reports via radio in South Africa after Oscar was arrested focused on the government representatives vowing to show their people that just because people are white or rich, does not mean they will escape jail. The race issue was obvious from the beginning. The race divide has become an issue with many black South Africans, and the anger is escalating. In response to the eNCA decision not to publish or broadcast pictures of dead Reeva, that anger is coming over hard:
@eNCA refusing to show graphic pics cause it is a white body in question. Mxim!!!

— #FightersAttack! (@Kathazile) June 15, 2016
@eNCA if it were a black person we know what you'd do

— Handsome Spy (@themaytrix23) June 15, 2016
Media influence.
Oscar Pistorius has been used in many ways and now the simple decision to show some respect and decorum is being used to further divide the so-called rainbow nation.
Where, one wonders, are the millions of tweets and international media outlets raging over the Crime committed by Sunnyboy Phakimpi Mnisi? Sonny Who? Sonny beat, strangled, killed and may have raped his own seven-year-old epileptic daughter. You won't see much – possibly because he was black, he never did anything to bring accolades and honor to his country and he never reached out any kind of helping hand to assist a child with disabilities.
Click to read more
and watch the video
or