Oscar Pistorius: Supporters demonstrate in support of Oscar at start of murder sentencing
Rate this title
Despite the bad weather, people of all races and sexes stand up for fallen athlete Oscar Pistorius as his sentencing for murder gets underway.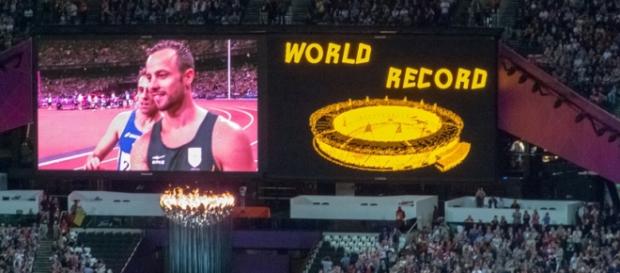 It is pouring with rain and cold in Pretoria, South Africa. Standing out in the rain in the early morning, supporters paraded for Oscar Pistorius with placards and posters. The double amputee athlete has had a long fight against the courts, the media, and the incredible hatred that the trial spawned following the death of his girlfriend Reeva Steenkamp in 2013. Will the South African court give him the maximum penalty? Is it right to take a broken man and break him some more? He is not same bright and smiling young athlete we all admired before the tragic accident – termed murder - that took the life of a woman he loved.
Oscar #Pistorius arrives in court. Looks a broken man. Embraces family.

— Martin Cuddihy (@MartinCuddihy) June 13, 2016
Initial conviction overturned by Supreme Court.
First found not guilty of murder, Oscar faced off against an appeal by the Prosecutors office, who managed to overturn the case through the Supreme Court, from culpable homicide to murder.
Today is the start of his sentencing for the murder charges. The State will be pushing for a 15 year jail term for the fallen athlete. Whilst international media attention has waned as he has served his house arrest, the people who support him have never given up their fight for what they term a trial by media and a denial of his civil rights to appeal through the Constitutional Court.
Vicious backlash.
There has been a vicious backlash from Justice for Victims and the ANCWL, the ANC Women's League. Whilst supporters danced and sang in a way reminiscent of the old toy-toying crowds that demonstrated against Apartheid, ANN News spoke to some of the leading members of the Oscar Supporters groups. They came from overseas, and from local South Africa to stand for their "golden boy," believing he has been punished and suffered and should now be granted his freedom.
Africa, who leads one group said in an interview that in any case, the South African Prisons are not suitable for a disabled person such as Oscar. He told ANN TV that his setnece for culpable homicide was "justified," but the courts shouldn't have turned it into a murder conviction.
Supporters determined to stand by their man.
Supporters say that they will support Oscar for as long as it takes, no matter what. He has already spent a year in jail and been under house arrest and this will hopefully be taken into account. As he is obviously disabled, and is suffering clinical depression, his supporters are hoping for an appropriate sentence. The State never did manage to find him guilty of intent to murder. They finally squeezed in a murder charge under the precedent that if a person fires a weapon they should be able to foresee the probability that someone could die.
The Judge.
This will be a hard call for the presiding Judge. Judge Masipa  was criticized by the Supreme Court for her culpable homicide ruling in the first place.
Now they have appointed her to hear the pre-sentencing legal arguments. This is a bit like putting her under pressure to correct her own mistakes. This career Judge will be expected to take some kind of action, if for no other reason, than to keep her credibility amongst her peers. Some people are saying she should not be presiding over the case at this sensitive stage of proceedings.
Deeply divided country.
The country is deeply divided over the Oscar Pistorius Trial. When Oscar announced he was going to appeal his case through the Constitutional Court, Chrispen Machingura, an attorney told ENCA News in December that there was a "good chance of having it (the murder conviction) declared unfair." On the other hand, Tyrone Maseko, yet another attorney told media, "If he ever succeeds, then I will know there is no justice in this country." In March 2016, the Constitutional Court denied him leave to appeal his conviction.
Media frenzy.
The media frenzy has been blamed for much of Oscar's stress, and on several occasions the Ombudsman ruled against mainstream newspapers who had misquoted events, and gone a little too far with their presumptions in their reports. 
Sky News are running the event live via YouTube.
Click to read more
and watch the video
or