Morsi carried life sentence and Al Jazeera journalists are on the threshold of the gallows
Morsi jailed for 25 years and six others including Al Jazeera Journalists were sentenced to death.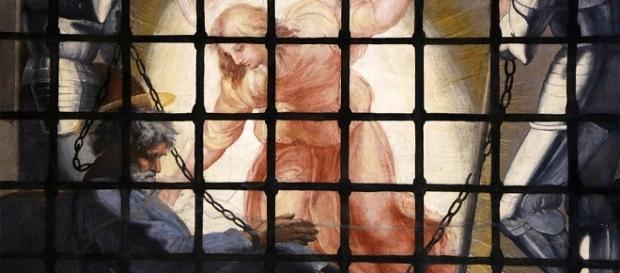 The Egyptian court's judgment on Morsi has boosted the danger for the world's journalists. The journalists' voice has been gagged looking to the Al Jazeera journalists. Journalists across the world are stunned by the verdict pronounced by the criminal court of the Egypt. In fact, the death sentence has been handed down to the freedom of speech. In Egypt, the atmosphere of arbitrariness is prevailing in the criminal courts regarding dispensation of Justice. The trial of eleven defendants has caught the attention of the world and six of them stand at the threshold to the gallows. The capital punishment handed down on the six convicts have been upheld.
All the defendants were convicted on the charges of carrying out under cover activities of spying (espionage) and letting out the secrets to Qatar. 
Mohamed Morsi.
In this controversial criminal case, Morsi has been sentenced to 25 years in prison in Egypt on the fabricated charges of spying for Qatar. In this case, Morsi has been the most important and leading defendant. The judgment has been pronounced but to reach the final stage, the Grand Mufti Shawqi Allam's signatures are required. In Egypt, the Grand Mufti is believed to be the highest religious figure. It has been customary in Egyptfor the Grand Mufti to sign the death sentence, but Mufti's permission is not binding on the court of law. The Grand Mufti is a symbol of respect in the country. Fifteen years more imprisonment has also been added to 25 years, on another count and both the sentences will run concurrently.
Morsi's secretary named as Amin El-Sirafy will suffer 25 years life imprisonment and 15 years more that the secretary will carry on another count. Both the sentences will run concurrently. Karima, who is said to be the secretary's daughter, has also been awarded 15 years sentence in jail. 
Al Jazeera journalists were awarded death penalties.
Ibrahem Helal has been rendering his services previously as a director at Al Jazeera Arabic channel. The Egyptian criminal court tried Helal's case in his absence and pronounced the death sentence on him, as he was also charged with spying for Qatar during the Morsi's regime. The human rights groups have raised their concerns and voices against the politically run criminal courts in Egypt. The rest of the defendants who carried death penalties are included, Alaa Sablan, an Al Jazeera employee, Asmaa Alkhatib, a journalist employed with the Rassd Network, Ahmad Afifi, a political worker, Mohamed Kilami, the flight attendant and Ahmad Ismail belonging to the academic, all the convicts have been taken into custody by the sitting Government. In Egypt, being a journalist is sinful and prohibited if they report against the will of the Egyptian government.