Milan-bound Singapore Airlines Boeing jet caught fire during an emergency landing
Rate this title
The right wing of the jet engulfed with smoke and fire at Changi airport, while all 241 passengers safely evacuated.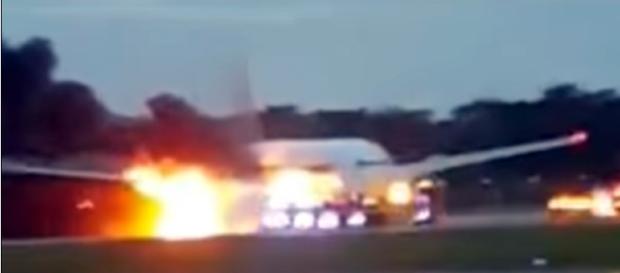 A Singapore Airlines flight carrying 241 passengers escaped narrowly on Monday after the plane caught fire during the emergency landing at Changi Airport. The jet was compelled to turn back to Changi Airport due to the engine problem in mid air. All the passengers were safely evacuated.
Singapore Airlines flight hit by the mid-air engine problem
The Flight SQ368 of Singapore Airlines departed from Changi Airport for Milan. But after two hours, the pilot of the plane suddenly announced the engine problem and was forced to make a U-turn to Singapore. The pilot noticed a problem in the right engine. As he suddenly observed an "engine oil warning message" during the flight, was compelled to turn back to Changi Airport for an emergency landing, said a SIA spokesperson.  
Onboard passengers were horrified
Some of the passengers who were aboard the flight said they could smell fuel on the plane.
They were horrified when the pilot announced that he was going to turn back because the right side engine was leaking oil and they could not turn on the right side or else the plane would be vibrating.
Boeing 777-300ER aircraft's right engine caught fire as it landed at Changi Airport
Though horrified, all the passengers were calm inside the plane till the plane landed at Changi airport. The right engine of the aircraft caught fire after it landed at Changi Airport. The fire was doused by the airport authority immediately and all the 19 crew members and 222 passengers on board were evacuated safely. Passengers quickly got off and were taken to the terminal building by bus. The fire was put out in about five to 10 minutes as the firefighters sprayed water and foam on the plane. 
JUST IN: Singapore Airlines plane reportedly catches fire at Changi Airport. pic.twitter.com/BMLll2LlRX

— Airplane Pictures ✈️ (@iLove_Aviation) June 27, 2016
Passengers posted the traumatic account on social media  
"I just escaped death!" Lee Bee Yee, a passenger of the fateful plane posted on Facebook.
She posted her traumatic account and the video of fire engulfing the right wing of the plane. Shot from a window seat, the video clip shows smoke and flames engulfing the right engine.
Click to read more
and watch the video
or