Watch man being robbed of his gold Rolex watch outside a London hotel
A man was enjoying a cigarette outside a hotel in Kensington, London when two men shook hands with him before casually relieving him of his watch.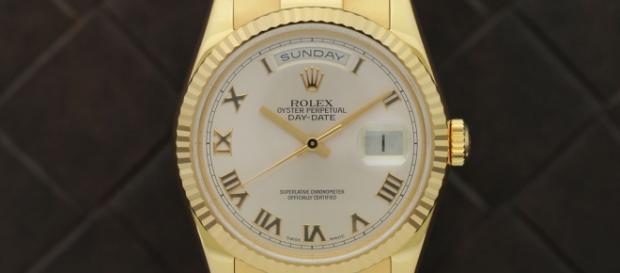 The robbery, which happened last year, offers yet another reason for giving up the habit, as the man had to leave the safe confines of the hotel to enjoy a smoke. The CCTV video footage has been released by London's Metropolitan police, showing the robbery as it happened, in an attempt to track down the suspects.
The two suspects approach the victim in a casual and friendly way
In the footage, included below, two men can be seen approaching the man as he sat smoking a cigarette outside the luxury Beaufort Hotel in Beaufort Gardens, London. The attack occurred on December 29, 2015 at approximately 10 pm.
One of the men fist bumps the victim before casually shaking his hand, followed by the second man, who also shakes his hand, but then hugs the man, as the first man cleverly slips the £10,000 ($14,000) gold Rolex watch off the victim's wrist. Following the robbery, the two suspects fled the scene and reportedly headed towards Brompton Road in west London.
It was only later that the man glanced at his wrist and noticed that his valuable watch was no longer there.
Police are appealing to the public for help in tracking down the crafty thieves
Since that date no arrests have been made and the Metropolitan police are appealing to anyone who might have witnessed the robbery, or who recognize the attackers, to come forward with information. Police described one of the suspects as being a slim white man, possibly in his mid-20s and with short dark hair. At the time of the incident the man was wearing a red body warmer with a grey tracksuit and black trainers. The second man is described as also been a slim white man, sporting a thin beard and in his mid-20s. The man was described as wearing a white cap with a black peak, along with dark trousers, a green bomber jacket, and white trainers.
Police wish to speak with two men following a #robbery outside a #Knightsbridge hotel https://t.co/Kp2Y1jTu3s pic.twitter.com/3wENXcEs6I

— Metropolitan Police (@metpoliceuk) May 13, 2016
Witnesses can contact police if they have information
Anyone who may have witnessed the robbery or may recognize the suspects from the video, has been asked to contact the Metropolitan police in London or via the Crimestoppers telephone number.