Two Gambian children who died in a New York apartment fire have been buried
Haja Conteh who is from The Gambia has not been charged. She is pregnant and visibly distraught by the incident.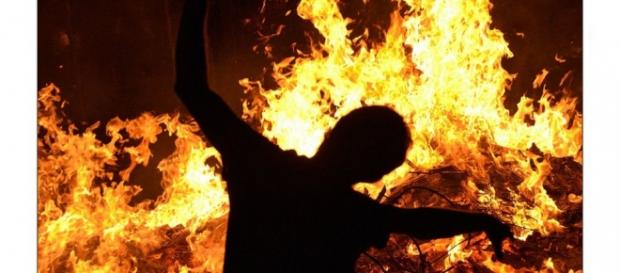 Haja Conteh, 26, left her two children, 18-month-old Aminata Jabbie and two-year-old Jainaba Jabbie in her Bronx, New York apartment to go a local laundromat at the corner of her street to finish washing her clothes. She was to come home with ice cream for her two daughters only to find the New York Fire Department fighting a blazing inferno in the building in which she lived.
Babies heard crying.
Aminata and Jainaba were burnt and suffocated to death. The babies were heard crying as the fire ravaged the home but stopped after neighbors said they heard a big bang. Neighbors heard a banging on the glass but did not know if it was the kids who suddenly went silent.
The fire, which started at 6:30 in the evening, was caused by the incense, locally called "churai" that she left burning in the apartment home. Fire inspectors said she had disabled the smoke alarm.
Mother lay unconscious as firefighters put the kids on a stretcher
Pregnant Haja Conteh, who had immigrated from Gambia in 2014 fell unconscious on the sidewalks as her burnt kids were carried out of the inferno. The fire department said if the smoke alarms were working, they could've been there earlier to possibly save the unsupervised kids. A witness told reporters from the New York Daily that she saw the woman coming from the laundromat. She was reportedly screaming,"my babies, My babies!"
No charges filed.
Haja's husband Bully Jabbie is a cab driver. He was at a local mosque not too far from their apartment 3F home in the Butler Houses praying when the fire broke out.
No charges have been filed against Ms. Conteh, but she is visibly shocked and devastated though neighbors said she has been warned about her incense burning on several occasions.
Fire damaged other apartments.
The fire damaged at least three other apartments. The New York Fire Department last month battled a fire in Brooklyn that killed a child. The mother of the child was arrested and charged with negligence and child endangerment. New York has a huge Gambian population in the Bronx around the Grand Concourse and Webster Avenue areas.
Click to read more
and watch the video
or