Treasure trove of Roman-era bronze coins found in Spanish construction site
Construction workers in the Andalusian town of Tomares uncovered a unique trove of Roman artifacts while digging ditches.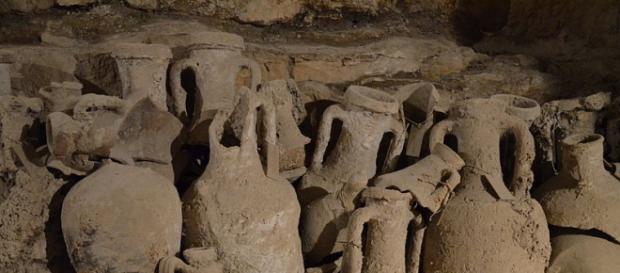 While working on a construction site on Wednesday last week – placing pipes to carry water to a local park – workers found Roman artifacts of incalculable value inside one of the ditches they were digging. Their work was immediately halted and experts were called in to investigate the discovery.
An unique archaeological find of a lifetime
What they had found is considered to be unique to Spain, as the find included 19 amphorae, containing approximately 600kgs of Roman bronze coins. Archaeologists calculate that the find dates back to around the 4th century AD.
As reported by the New York Daily News, the coins, found in the small town of Tomares in Seville province, reportedly have a picture of an emperor on one side, including Constantine and Maximia, while on the reverse side a series of different Roman allegories are pictured, including that of abundance – rather appropriate in the circumstances.
According to researchers there has never before been so many different coins found in the same archaeological site. What makes them even rarer is the fact that they appear to have never been in circulation and were not worn.
Spanish ditch diggers unearth 1,300 pounds of Roman coins. https://t.co/NzuMDhXnTc pic.twitter.com/0Qj1yL3EOS

— Smithsonian Magazine (@SmithsonianMag) May 2, 2016
As for the amphorae, or containers, themselves, they weren't the normal type used as storage. Reportedly some were broken but many were still in one piece. Reportedly the containers were found inside a sealed storage space and had been concealed under broken bricks and other items.
As reported by El Pais, a spokesperson for the department of culture in the region said the treasure trove had been deliberately hidden underground, covered with some ceramic filler and a few bricks.
According to researchers, they believe the money may have been intended to be used as payment of army levies or possibly imperial taxes.
1,300-pound trove of 4th century Roman coins that may be worth millions unearthed in Spain. https://t.co/s0S9L0cfds pic.twitter.com/Pp4vIY9t6r

— ABC News (@ABC) April 30, 2016
The construction work now continues
Lola Vallejo, city planning councilor, told the media the incredible find was a "one-off event" and that the construction work is now carrying on as per normal. Reportedly the coins have been transferred to the Archaeology Museum of Seville for further investigation.
In a country where austerity has cost people their jobs and their homes, a rare find of such value is significant. Many are probably wishing they had made the discovery themselves.
Click to read more
and watch the video
or