Rebels in Nigeria's Delta State blow up a Chevron oil facility
Rate this title
90% of Nigeria's foreign exchange comes from oil. Production has been impacted not just by the global sales market prices but attacks on pipelines.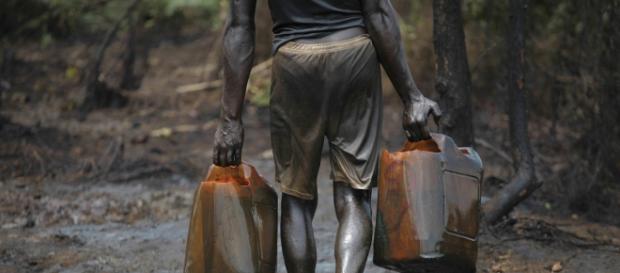 Rebel forces of the Niger Delta Avengers have claimed responsibility for blowing up a Chevron offshore oil facility in southeastern Nigeria's Delta State. Rebels used explosives to launch an attack on an oil and gas collection facility in Escravos, near Warri. Nigerian officials are not ruling out the involvement of some other Delta militant leaders including Tompolo who is wanted on fraud charges. Chevron has confirmed the attack and said it will affect the supply of gas to power station that is already faced with outages.
Chevron stands to lose about 35,000 barrels per day
Chevron Spokesperson Isabel Ordonez said approximately 35,000 barrels per day of Chevron's net crude oil production in Nigeria are impacted.
The Chevron website said its daily production in 2014 averaged 240,000 barrels of crude oil, 236 million cubic feet of natural gas, and 6,000 barrels of liquefied petroleum gas The rebel group's attacks also came in the wake of the end of an amnesty program that brought the Delta insurgency to a stop in 2009.
Tompolo has been accused of defrauding the Nigerian Government of more than USD $175 million and attacks have been on the increase since a warrant was put out on Tompolo. He is a leader in the Movement for the Emancipation of the Niger Delta, which wants a fair share of oil revenue given to local people most of whose farm lands were destroyed. Tompolo was a supporter of former President Goodluck Jonathan and at one time swore to wage war if Jonathan was not reinstated as president.
First oil production has started outside the Delta
Oil production with the capacity of producing 40,000 barrels per day has started in the commercial capital Lagos giving hope for better revenue.
Revenue from crude oil has gone to an all-time low since 2014 and attacks have cost the economy at least 1.8 million barrels a day.
"Oil produced from the Aje field will be stored on the Front Puffin which has production capacity of 40,000 barrels of oil per day and storage capacity of 750,000 barrels," YFP said in a statement.
The commencement of oil production by Yinka Folawiyo Petroleum at Aje field located in block OML 113 offshore Lagos makes it the first output outside the Delta oil hub. Nigeria has produced almost all of its oil from the Delta region in nearly six decades of production. Aje field is more rich in gas and Nigeria has seen about a 25,000 barrel depletion due to attacks on the Trans Forcados System.
A discovery in the Dahomey Basin has been made but exploitation has not been rigorous. Nigeria's President Muhammadu Buhari has been battling Boko Haram insurgency and signed the country budget based on $38 per barrel.
Click to read more
and watch the video
or