President Sall refuses mediation offer by President Conde over border closure with Gambia
Alhagie Jobe reports: Senegalese drivers now detour around The Gambia to reach Cassamance via Tambacounda.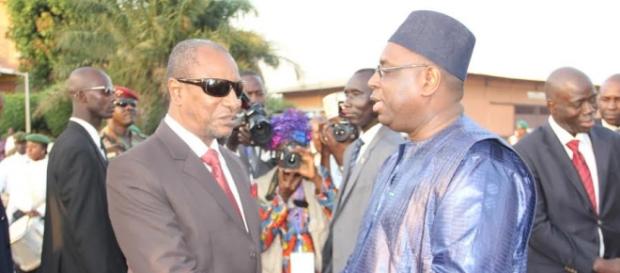 Senegalese President Macky Sall has said "no and never," to a proposal by Guinea Conakry President Alpha Condé for mediation in the ongoing three-month long border crisis with The Gambia. President Condé who wants to mediate the Gambia-Senegal border impasse proposed that both The Gambian and Senegalese presidents meet in Conakry or send plenipotentiaries for mediation over the border crisis.
Jammeh is the solution to his own problem
President Sall told President Condé that only President Yahya Jammeh is the solution to Yahya Jammeh's problem. According to reports on the Senegalese media, President Sall categorically denied the offer by President Conde saying it is The Gambia that triggered the hostilities by deciding to close its border.
Banjul has always used border closure with its neighbor as leverage when in crisis with Dakar and Dakar now says if Banjul wants any negotiation, they can come to Dakar and they would give them a chance to deliberate.
Separatist armed rebels.
The Gambia invited mayors from the southern Senegalese region of Casamance, most of who are political rivals of President Macky Sall urging them to assert more pressure on Dakar to reopen the borders. Casamance is in a low-level crisis over autonomy saying it feels isolated from the north. Jammeh has been alleged to support separatist rebels with arms and logistics.
The status quo to remain the same
President Macky Sall strongly told Mr Condé until President Yahya Jammeh reconsiders his position; the status quo shall remain the same. President Yahya Jammeh has earlier this year called former and the current Senegalese presidents names, sparking anger among its citizens and their supporters.
His continuous attacks on the Government of Senegal, both current and former administrations coupled with inviting top celebrities from the West African neighbor to credit him as an African strong is making talks difficult for his emissaries.
Jammeh, who submitted a petition to ECOWAS is livid after the sub-regional bloc threw out the case he presented against Senegal over the border impasse. President Macky Sall is the chair of the community of nations and has left of the border talks to the transportation union after truck drivers boycott The Gambian route.
International reaction
The border crisis started after President Yahya Jammeh signed an executive order increasing tariffs for commercial vehicles crossing into The Gambia from Senegal by a 1000 percent. He has since rescinded his decision and talks between the two nations stalled.
Senegalese Foreign Minister Gueye told reporters last week that Banjul has written to Dakar for talks in hopes that the border crisis will come to an end. The meeting is scheduled to take place in mid-May and a joint mission of the African Union, ECOWAS, and the United Nations urged the two nations to continue dialogue to resolve the impasse.