Paranoid Musevini bans live coverage of opposition protests
Yoweri Musevini's presidency has faced its biggest challenged so far and opposition leader Dr Besigye continues to be defiant.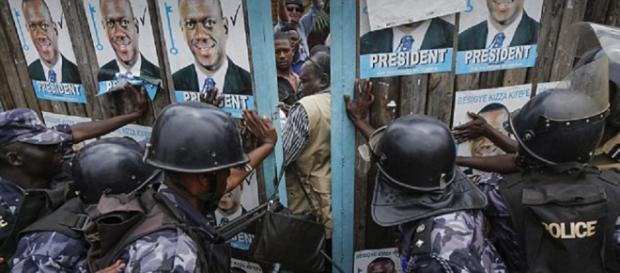 Information Minister Jim Muhwezi announced the Government of Uganda has taken a decision to stop the live coverage of opposition leader and former physician of President Musevini, Kizza Besigye's defiance campaign against the re-election of the three decade ruler of the East African nation.
Media houses that violate the order risk losing their broadcast licenses
Ugandan government has since put defiant Besigye under house arrest for the third time since February and accused him of trying to cause anarchy and to disrupt Musevini's swearing in ceremony. Besigye has called on his supporters to take to the streets and protest against Yoweri Musevini's rule and an election he calls fraudulent.
International observers say there was an atmosphere of intimidation by security forces loyal to President Yoweri Musevini.
The US State Department has expressed concerns and its disappointment at the Musevini's administration's decision.
Freedom House said in a report that Uganda's press freedom environment has improved slightly compared to previous years, especially after reporters challenged a court injunction for closed door sessions, which was overturned and gave them more access to information. Independent media became effervescent after state regulators deserted interferences into their editorial content.
"However, journalists continued to face intimidation and harassment from state and nonstate actors, at times engendering self-censorship," Freedom House said.
Claims of violence and voter fraud
President Yoweri Musevini has been in power since 1986 and has been challenged for the presidency by at least two of his former prime ministers, one of his former advisors, a retired military general and a former university vice chancellor.
Public opinion has overwhelmingly given Dr Besigye the win but the Ugandan electoral commission said President Yoweri Musevini won 61 percent of the votes while his former personal doctor won 35%. There were reports of violence, rigging and irregularities in many parts of the country. Voting was extended in other parts after some opposition supporters were denied from casting their ballots.
International observers reported arrests of opposition supporters and politicians, which have been condemned by the United States and the European Union. The elections were concluded as not transparent and the Commonwealth of Nations said there was excessive use of state power in favor of Musevini.
In 2005, presidential terms limits were negated from the constitution.