NIA spy caught by UDP supports amid anti-government protest
Anthony Gomez was nabbed by protesters after he kept asking questions about future protest plans.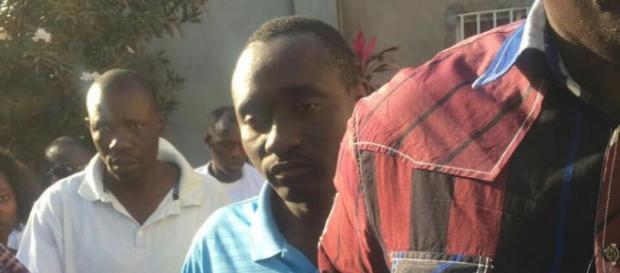 A spy from the Gambia's feared National Intelligence Agency was swiped out of the crowd by opposition protesters who later posted pictures and videos of him on the internet after posing as an anti-Government protester asking questions about future protest plans.
Denied being a spy.
Anthony Gomez denied being a spy when interrogated by protest organizers and a search of him led to the discovery of his security agency ID. Gomez's agency is only answerable to President Yahya Jammeh and still operates under a military junta decree making most of its operations contrary to the constitution.
Last month, Senegalese authorities detained Special Agent Gibril Kujabi after he was caught by spying on #GambiaRising protesters in Dakar – recording audio and taking still and video images.
Protesters recognized him and another Gambian intelligence agent who managed to escape. He was released two days later.
Protests turned violent
Protests turned violent on Monday outside the High Court after riot police opened fire and were seen beating those marching home in the capital Banjul and the industrial hub of Kanifing. At least three people were said to be seriously injured and at least 40 others arrested. Social media sparked into anger after amateur footages surfaced of women being assaulted and chased by the police and gunshots were heard in the background.
A joint UN, ECOWAS and AU mission had last week advised The Gambia to protect the rights of its citizens, in particular, the freedom of expression, assembly and political participation and reiterated calls for a credible and independent investigation, and urged the Government of The Gambia to allow due process of law in the trial of UDP leader Ousainou Darboe and other protesters arraigned with him.
NIA accused of arbitrary arrest, incommunicado detention, torture, and killings
The Gambia's spy agency has been accused by right groups of carrying out arbitrary arrests, incommunicado detentions, torture and killings of journalists, rights campaigners and political opponents of the Jammeh regime. Rights groups have documented cases involving the NIA since President Jammeh came to power in 1994.
The agency has been used by the state to instill fear in the people and to systematically target those that speak against the policies and actions of the government.
UN human rights findings say torture and extra-judicial executions are prevalent in the West African nation.