More details emerge after 88,000 Canadians displaced by forest fires
Rate this title
City of Fort McMurray remains evacuated during largest environmental disaster in province's history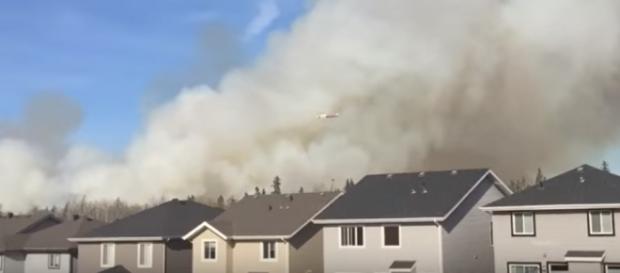 A sprinkling of rain throughout most of the province has done very little to assist fire fighters battling raging forest fires in northern Alberta, Canada. 
The city of Fort McMurray -- perhaps best known as the home of the infamous oil sands or "tar sands" developments -- has seen major damage as fires burning in surrounding forested areas spread to the urban area. The city's entire population of more than 80,000 people was placed under a mandatory evacuation order late Monday afternoon, with approximately 25,000 residents fleeing to remote northern areas and oil and gas industry work camps, where they remain awaiting word of safe travel routes south.
According to the Alberta Emergency Management Agency, those evacuees may soon be able to move south to major centres. AEMA's Executive Director of Provincial Operations, Scott Long, said during a press conference Thursday morning that the government is partnering with the oil and gas industry to implement the air evacuation of 8,000 of northern evacuees and will begin opening ground transport routes for those remaining, "as soon as it is safe to do so."
As of Thursday morning, the fire consuming the city had grown to "at least 85,000 hectares," (210,035 acres); comparatively, the City of Fort McMurray itself is only a little under 6,000 hectares.
#ymmfire Us getting out of Beacon Hill! My childhood home and everything I've ever known is burnt to the ground. :( pic.twitter.com/eY1KmCVIvi

— Holly Ayearst (@hollerslyfe) May 4, 2016
First responders in for a hard battle against fire
After several unseasonably warm days with temperatures hovering around 85 degrees, Thursday's forecast calls for a high of only 59 degrees. However, any hope for assistance from nature to fight the fire seems quickly ruled out as winds are expected to reach 24 m/hr.
There have also been multiple reports of lightning in the area and unpredictable wind patterns, which is common for a fire of this magnitude. 
Chad Morrison, the province's manager of wildfire services says there are over 100 wildfire fighters battling the blaze, in addition to 200 structural firefighters assisting from communities across Alberta. There are multiple reports on social media of firefighters and police (RCMP) responders working 18-hour shifts between breaks. Morrison made clear in Thursday's press conference that 1,000 additional wildfire fighters are currently some of the 42 other wildfires burning in the province, but should the Fort McMurray fire change in scope, some may be reallocated there. Also, while the province is currently utilizing 16 water bombers in the Wood Buffalo/Fort McMurray area, more are being brought in from Ontario to assist. 
Full extent and cause of fire still unknown
Alberta Premier Rachel Notley was pressed multiple times by reporters on Thursday to discuss the possible financial implications of the fire -- both on the oil and gas sector as well as the province's recently released budget, which saw a $10bn deficit tabled.
However, she insisted that the primary concern of the government is on the safety of residents and the town of Fort McMurray, through the support and recovery phases and that it is still much too soon to assess the possible costs associated with fighting the massive fire. As for the province's oil and gas stake, Notley remains optimistic, as the infrastructure within each of the corporate plant sites remains "in good shape."
"The issue is that their workers are not there. The extent of the economic issue will come down to how long it takes for people to return to work in and around Fort McMurray."
In 2011, the northern Alberta town of Slave Lake was ravaged by fire, destroying neighborhoods and 300-400 buildings and racking up over C$750m in damages to become the second most costly disaster in Canadian history at the time. As of Wednesday morning, the Fort McMurray fire had consumed 1,600 structures and that number is expected to climb dramatically once crews are better able to enter communities to assess the fully damage. 
Click to read more
and watch the video
or