Mauritanian opposition protest move by President Ould Abdel Aziz to abolish senate
Rate this title
President Aziz has been accused by the opposition of attempting to extend his rule by disbanding the senate.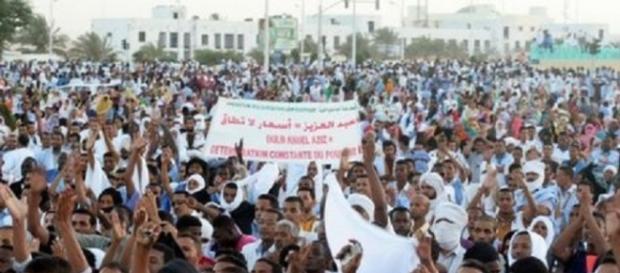 In Nouakchott, more than 10 opposition parties came together to protest against the annexing of the West African nation's senate to form a regional council. The opposition said they are being provoked by the former military ruler and will not go into dialogue with him.
President Aziz, who seized power in a 2008 coup announced a constitutional referendum will take place but did not give any date. The opposition protesters have asked for President Aziz to step down, chanting "no to mandate extension."
Seeking third term in office
Mr. Aziz said he is giving the opposition four weeks to decide if they want to take part in the referendum or not.
The opposition says the former military general is trying to seek a third term by changing the constitution. Mauritania's constitution restricts its presidents to two terms.  
Many of Aziz's African colleagues have changed their constitution removing restrictions to their stay in power. President Denis Sassou Nguesso of the Republic of Congo and President Paul Kagame of Rwanda both won more than 90% of the votes to extend their rule. Mauritania's neighbor, Senegal held a referendum which reduced presidential term limits from two-seven-year terms to two-five-year terms in March.
Former general who took part in two successful coups
President Mohamed Ould Abdel Aziz took part in a 2005 coup that ousted President Maaouya Ould Sid'Ahmed Taya. Taya was president of Mauritania since 1984 was also a military officer.
In 2008, President Aziz staged a coup overthrowing the Government of President Sidi Ould Cheikh Abdallahi. He was President Abdallahi's national security advisor.
He has served as the African Union chairman. Aziz was key in stopping a 2004 uprising in the country. In 2012, there was an assassination attempt on him but the government said he was mistakenly shot by a military unit on his arm though medical sources said it was on his abdomen.
Aziz has remained strong but now faced with the challenge of a stronger opposition which has formed a coalition to see the end of his presidency. He has come under sharp criticism for not making enough efforts to enforce laws meant to end slavery in his nation, where it is still being practiced.
Click to read more
and watch the video
or