Kenya arrest extremist medical students plotting biological attack, recruiting for ISIS
Rate this title
Kenyan troops have been battling Al-Shabab forces since 2011 and now ISIS is looking to use Al-Shabab scheme to recruit youths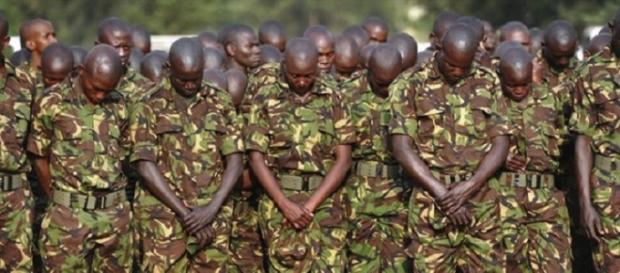 Mohammed Abdi Ali, a medical intern at Wote Hospital with his wife, a medical student in Uganda and two other accomplices Ahmed Hish and Farah Dagane were arrested by authorities in Kenya for plotting a biological attack on the East African nation, which has been battling Al-Shabab insurgency.
The medics were also recruiting university students for the Islamic State group ISIS, which is replicating Al-Shabab in the use of Kenyan youths to attack the country. Activists however said one of those the police said was arrested, Ahmed Hish is a rights campaigner who had gone missing. They have accused the police of making a false statement after mounting pressure about his whereabouts.
"Ali has been engaged in the active radicalization, recruitment of university students and other Kenyan youth into terrorism networks," Kenyan authorities said.
The suspects were said to be planning an attack larger than the one on the Westgate Mall and Garrisa University which killed 67 and 148 people respectively. At least two dozen Kenyans travelled to Libya to join the ISIS group and fears of attacking Western targets like resorts have heightened. Kenyan police said the accused were helped by medical experts but fell short of releasing the name of the "experts" to use anthrax to carry out the attack.
Kenyan troops are main targets
Since 2011, Kenyan forces have been aiding Somali troops to fight Al-Shabab militants. The extremist group carried out attacks in Kenya in retaliation. Earlier this year, at least 180 Kenyan troops were killed by Al-Shabab loyalists who mounted an assault on their AU peacekeepers base in El-Ade, southern Somalia.
Al-Shabab says it will drive out AU and Kenyan forces out of Somalia. It has also targeted Ugandan and Burundian troops in latest attacks.
The Garrisa attacks proved Kenya is ill-prepared to prevent attacks especially on its border towns and cities. The Government has attempted to close down refugee camps largely occupied by Somalian refugees.
Kenya is the main ally of the United States in the global war on terror in East Africa and Al-Shabab is using Kenyan division especially after the 2007 elections violence to recruit more people and wage war on Kenya. The African Union mission in Somalia (AMISOM) pushed Al-Shabab out of Magadishu and many key parts of the country that they controlled.
Click to read more
and watch the video
or