Heavy Gambian military presence in border town of Wellingara
Rate this title
It remains unclear why Gambian troops were moving constantly along border villages but the two nations have been at a standoff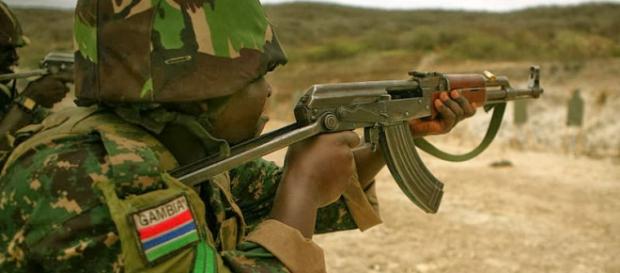 Residents of the village of Sabi reported frequent movements of heavily armed Gambian military troops around their district, the Senegalese media reported. Villagers said they have never seen such strong military presence in their community.
"Since yesterday we have seen more and more soldiers and military vehicles in the village," said one of the residents to reporters. Last month, movements of Senegalese troops near The Gambian border were reported as well. Relations between the two nations are tense but Dakar has kept a quiet diplomacy over a border closing that is entering its third month. The Gambia this month arrested three Senegalese environmental ministry officials around its borders but were released days later without charges.
Fighting erupted between Senegalese troops and separatists rebels near the Gambia's borders with southern Senegal. Government forces raided the rebel's marijuana farms destroying them and killing at least a dozen fighters. Senegal has mounted a crackdown on the illegal drug trade and timber logging which finds its market in The Gambia.
Jammeh accuses Senegal of harboring his enemies
President Yahya Jammeh has used the border closure and the Cassamance crisis as leverage in dealing with Senegal but US President Barack Obama has made a pledge to support Senegal in resolving the more than three decade low level crisis over autonomy. This has neutralized Jammeh's leverage. The US and Senegal yesterday signed a joint defense agreement giving American troops access to Senegalese security installments.
The Gambia has accused Senegal of harboring "enemies of the state." Senegal is home to many Gambian refugees including journalists, opposition politicians, rights defenders, and failed coup plotters. At least two of Jammeh's former allies, Saul Ndow and Mahawa Cham have been kidnapped there and not seen or heard from since. Gambian refugees say it is too close to their home country, making it even more unsafe for them. The borders between the two nations are porous and not often patrolled making covert operations for Gambian spies easy. President Jammeh in retaliation has refused to extradite a Senegalese armed robber who escaped a maximum security prison to become a fugitive in The Gambia.
Senegal, a nation of 14 million people has very strong ties to the United States and France. It has come under terrorists threats, which has been aggravated by cross-border suicide attacks on Western targets, mostly hotels and resorts in Burkina Faso, Mali and most recently Ivory Coast. The country has cancelled its biggest Jazz festival over security concerns.
Click to read more
and watch the video
or