Halifa Sallah lashes out as diaspora Gambians are war mongers
Sallah has recently being criticized by diaspora activists for inactive response to the arrest and torture of peaceful protesters.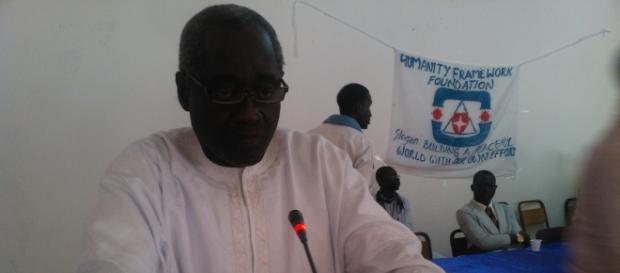 Gambians in the diaspora Friday were quick to refute claims by presidential nominee Halifa Sallah who branded them as war mongers without combat preparedness.
Sallah said political activists in the Europe and America are transforming their surrogates into fodders for rifles, bayonets, tear gas and batons in a comment on Senegalese TV seen as a response to criticism he is facing for not taking to the streets in protest for the detention of a fellow opposition leader, Ousainou Darboe. Sallah has since being described as an underling to President Yahya Jammeh as Darboe's detention continued to stretch into its second month.
President Yahya Jammeh has accused diaspora political activists of funding rare protests in the West African nation with the help of Western powers.
The paramilitary police have used excessive force to disperse and arrest protesters. Eye witnesses said live rounds where used and videos of the riot police beating the people emerged on social media.
Gambians ready for change but...
Sallah who is running against Jammeh in the December polls said Gambians are in support of change but through the polls. He warned the diaspora activists that if their solution is contrary to this, they should weigh the odds and challenges and address them from there.
At least four Gambians were prosecuted in the United States for participating in and supporting a military expedition to end Mr Jammeh's rule of mainland Africa's smallest nation. Three of the attackers died in the crossfire during an early dawn on the presidential compound in Banjul. The months that ensued saw a brutal crackdown on dissent and arbitrary arrest and detention of family members of those who allegedly took part in the thwarted coup – including a 13-year-old boy, whose father was declared AWOL by the Gambian military command.
Diaspora Gambians dismiss Sallah as baseless
But the diaspora Gambians say Sallah's assertion is farfetched and instead accused President Yahya Jammeh of sparking war in the nation that has been mostly stable at peace compared to others in the sub-region. Political parties in The Gambia including Mr Sallah's socialist PDOIS party receive most of its funding from the diaspora. The diaspora has been calling for a coalition to unseat Jammeh over the past decade.
In 2006, an attempt by the diaspora to form a coalition failed after opposition leaders could not agree on a flagbearer. In 2011, talks failed too with the PDOIS often too quick to distance itself.
Demba Baldeh is an associate editor at Gainako Radio and Newspaper. He said that on numerous occasions leaders like Halifa Sallah refused to join such political talks organized by diaspora Gambians on the pretext that he was either not communicated to through a bureaucratic process or simply was not consulted on the agenda of such dialogues.
Diaspora Gambians say the international community is not hearing their cries because the peanut exporting nation is small and has no useful natural resources. It has in as such resulted to take extra constitutional and by all means necessary policy to end the repressive rule in their nation, which is the world's newest Islamic Republic to democratic and multi-party rule.
Click to read more
and watch the video
or