Gambia: seven alleged missing, tortured UDP members finally resurface in court
Protests continue in The Gambia with opposition activists calling for the end of President Yahya Jammeh's rule.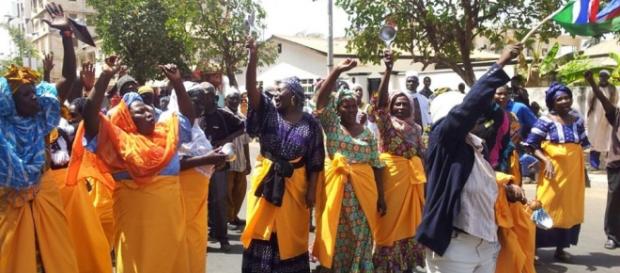 BANJUL, THE GAMBIA -- Seven members of the Gambia's opposition United Democratic Party (UDP) who allegedly went missing and were feared dead after been arrested during a peaceful protest on April 14th have finally been produced by the state and appeared in court on Wednesday in the capital, Banjul.
All seven new accused persons appeared weak and suffering from torture pains entering the dock alongside others and took a not guilty plea. The UN said at least three people have died and local media reported that Fatoumatta Jawara and Nogoi Njie were tortured into a coma. The seven: Kawsu Bayo, Ebrima Jabang, Fatou Camara, Fatoumatta Jawara, Nogoi Njie, Kalilu Saidykhan, and Modou Ngum were arrested during the April 14th peaceful demonstration led by senior opposition youth leader Solo Sandeng, who died of torture while under state custody.
They have not been seen for the past court proceedings and no explanation was given for their absence.
Seven charges for additional seven protesters
At Wednesday's hearing, the Director of Public Prosecution SH Barkun who leads the state counsel team supported of Deputy DPP M.B. Abubacarr, M. Koita, M. Singhateh, A. Bah, and E.R. Dougan informed the court that he had an application to make, which was to amend the information before the court.
"The genesis of the amendment is to add seven accused persons and an additional charge of conspiracy. The accused are numbered from 19 to 25," DPP Barkun said.
Senior Counsel Antouman A.B. Gaye who led the defense team supported by A.N.D. Bensouda, H.S. Sabally, O.M.M. Njie, R.Y. Mendy, S.M. Tambadou, B.S. Touray and Yasin Senghore replied by raising no objection to DPP's application. The trial judge Justice O. Ottaba of the Special Criminal Court granted the amendment, and asked for the amended information to be read to the accused person to take their plea.
Attorney A.B. Gaye requested to be served with the amendment sheet, which the trail judge approved. The seven will also be charged with unlawful assembly, riot, incitement of violence, riotously interfering with vehicles, holding a procession without a permit, and disobeying an order to disperse from an unlawful procession and conspiracy.
Last month, rare opposition protests to President Yahya Jammeh's rule erupted. Security forces fired tear gas and live rounds at protesters. Amateur videos show riot police kicking and hitting those trying escape arrest. It has given birth to unprecedented protests in front of the High Court in Banjul where UDP leader Ousainou Darboe and at least 50 others are being prosecuted.