Gambia's Jammeh downplaying reports of brutality and killings, blames western media
President Yahya Jammeh is on a tour of the country and accused western nations of using the opposition to incite violence.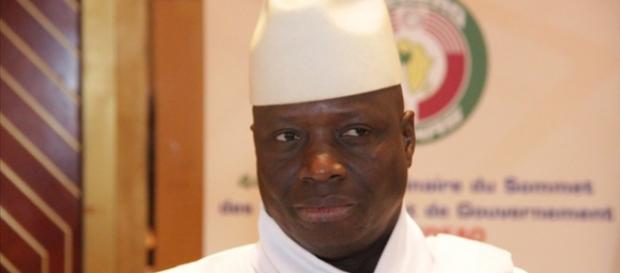 With mounting pressure to resign, Gambia's longtime ruler Yahya Jammeh who is facing unprecedented protests against his 22 year rule and seeing increased international press coverage has hit hard on Western countries and its media for what he called "relaying unethical and false reports to tarnish the image of The Gambia." Mr. Jammeh's comments came as he faces an unexpected and increasingly vocal and inspired political opposition and popular uprising demanding for change.
At a stop in Farrafenni, the biggest town in the north of the country on his routine annual tour of the country which began on Monday, Mr. Jammeh tried to shift his own blame, brutal #Government actions and repressiveness of his regime which prompted the uprising by blaming Western countries and its media saying they are inciting the violence and blowing it out of proportion. He said his government will not condone any incitement to violence in the country by opportunistic individuals or groups supported by Western countries and its media.
Earlier, Gambia's deputy ambassador to the United Nation Samsudeen Sarr equally blamed the Western countries of supporting the uprising in The Gambia and called for the shooting and killing of any one protesting on the streets. His comments gathered worldwide condemnation with Gambians and other activist calling on the UN to revoke his credential.
Mr. Jammeh tried to downplay the heavy security presence in the capital city of Banjul and the Serrekunda suburb on daily basis especially during days that the opposition should appear in court saying the security presence everywhere nowadays is to ensure absolute peace everywhere. He has accused Western countries for always interfering in other countries internal affairs and urged Gambians to avoid any external influence from derailing their focus on the countries development aspiration.
Facing likely budgetary and non-humanitarian freezes, travel ban
The ruler of this tiny African nation says he will make his country self-sufficient in food by the end of 2016 and an economic super power by 2025.
Mr Jammeh's government deemed very repressive is facing rising international isolation including the suspension of aid from major donors like the European Union. The country had also been dismissed from several U.S. aid programs including the African Growth and Opportunity Act and the Millennium Challenge Corporation. The sub-regional grouping, the Economic Community of West African States (ECOWAS) and the regional bloc, the African Union and the United Nations have denounced the human rights violations, lack of freedom of expression, media freedom, arbitrary arrests and detention and killings by his regime.
Jammeh told the people at the meeting that every Gambian have the right to join or vote for any political leader or party but through peaceful manner, insisting that he will never tolerate violence especially been instigated and supported by the West with its media propaganda.
Elections in Gambia already marred by violence
Gambians go to the poll in December, and Jammeh has already been nominated by his APRC party to contest for a fifth term. The election year is so far marred by political violence with arrests of opposition members, killings, and detention.
On April 14th, dozens of opposition United Democratic Party (UDP) members were arrested at Westfield for merely staging a peaceful protest demanding justice and electoral reforms. They were detained and tortured which led to the death of Solo Sandeng in state custody and others in critical conditions.
The death of Mr. Sandeng led to another peaceful demonstration on April 16, led by the opposition Party leader Ousainou Darboe and the entire party executive demanding the release, dead or alive of Mr Sandeng and others. They were equally rounded up and currently detained at the state central prison undergoing trial. #World Politics #Foreign Affairs