Gambia's finance minister denies country requested USD $11 million from IMF
Abdou Kolley said he did not sign a letter to the IMF after a former Senegalese government official said The Gambia made financial request.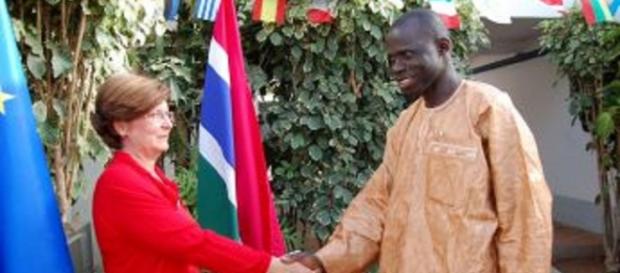 The Gambia's Finance Minister Abdou Kolley has denied reports that the West African nation requested USD $11 million from the International Monetary Fund to help address budgetary needs and especially pay the salaries of civil servants which were said to be delinquent.
"The report is false. We have not made any request for assistance from the IMF for $11 million," Kolley said.
The request which is said to be at least 25% of The Gambia's allocated Special Drawing Rights was made public by a former Senegalese Government official. Last year, The Gambia received a USD $10 million bailout from the IMF to help address financial slippages.
There was a 6% decrease in tourist arrivals due to the Ebola crisis though The Gambia had no registered cases.
Reduction in corporate tax
A border impasse with Senegal is said to be affecting business but Minister Kolley said the investment climate is one of the best with corporate tax rate at 30%. The Gambia, like other African nations, is faced with grappling a financial crisis but its government said they are doing all they can to address the challenges.
A cloudy economic outlook
The Gambia is cooperating with the IMF to stabilize its economy by compounding current balance of payment difficulties. With the debt being equal to the country's GDP, President Yahya Jammeh has interfered in monetary policies, which the IMF has warned him not to impose exchange rates and banning the exportation of cash more than USD $10,000.
The European Union withheld more than 33 million Euros in aid to The Gambia over rights concerns and has this month started reviewing a total suspension of all budgetary and non-humanitarian aid to the impoverished nation. The Gambia, which is the newest Islamic Republic has been unsuccessful in its bidding to entice the Arab and Gulf states for funding and has turned to Russia and China after breaking ties with Taiwan.
President Jammeh, 50, is seeking a fifth term amid rising tension and protests for change. He has claimed "there is Allah's bank and they Western countries can keep their chicken change" (referring to aid from the EU). The Gambia has been kicked out of the US African Growth and Opportunity Act and the Millennium Challenge Fund, which its neighbors continue to benefit from due to the Jammeh regime's violation of civil and human rights.
Click to read more
and watch the video
or