Gambia's Chief Justice Fired as Judge in the trial of opposition leader excuses himself
Chief Justice Fagbenle has been the Chief Justice for less than a year and the fourth to be fired within 3 years.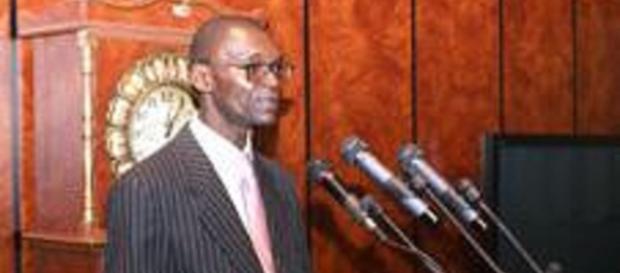 Less than a year into his appointment, The Gambia might be looking for a new Chief Justice after Nigerian-born Emmanuel Fagbenle became the fourth to be fired from the top judicial job in three years after a high court judge resigned from presiding over the politically motivated trial of more than 50 peaceful protesters including opposition leader and human rights attorney Ousainou Darboe. The Gambia's Government has not given any official statement remaining laconic over the firing of Justice Fagbenle.
Cameroonian-born Justice Ottaba retired from presiding over the trail of those arrests during rare protests in The Gambia last month after he told a Gambian US-based journalist that the trial of Mr Darboe has no merit and was in fact embarrassing.
Darboe is a senior member of the bar association.
Fagbenle was the president of the appeals court and replaced Pakistani-born Chief Justice Ali Nawaz Chowhan as acting Chief Justice in February 2014 before being sworn in as Chief Justice in June 2015.
Compromising judicial independence
Chief Justice Chowhan left The Gambia and denied reports that he was fired. He instead said he resigned after the government tried to stop him from overturning the conviction of two former military chiefs who were held liable for participating in a coup plot to overthrow President Yahya Jammeh.
Ghanaian-born Chief Justice Mabel Agyemang was accused by the government of espionage and giving sensitive information to a foreign government. Gambian authorities fell short of mentioning the name of the government but Justice Agyemang who managed to reach her native Ghana in time was declared wanted and at large.
Sent to prison.
Within the last three years, at least one of the Chief Justice was sent to prison for  buse of office, fraud, breach of trust, conspiracy to defeat justice, interference with witnesses, offenses relating judicial proceedings, giving false information and false assumption of authority in 2014. In July 2015, he was pardoned by President Yahya Jammeh.
The Gambia's President Yahya Jammeh has total control of the judiciary with the government giving contracts to mostly foreign judges who are considered "mercenary judges" by critics of the government. Though there is a judicial service commission, the West African nation's Head of State Jammeh is able to fire and hire judges at his own will.
During the past two years, at least two magistrates have been arrested and three others fired after making rulings that are not deemed favorable to the government.