Four Gambian-Americans escape 20 year prison time for supporting coup in native country
They are celebrated as heroes and called freedom fighters for doing what Jefferson and Washington did for freedom to reign.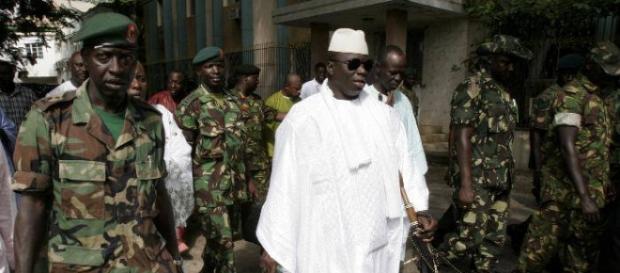 Four US citizens: Cherno Njie, 58, Alagie Barrow, 43, Banka Manneh, 43, and Papa Faal, 47, were sentenced in a federal court in Minneapolis, Minnesota for their roles in a botched late December early morning raid on the presidential compound of The Gambia's contentious dictator Yahya Jammeh in 2014 to end his rule of the West African nation. They were prosecuted for violating U.S. laws and not for attempting to overthrow President Yahya Jammeh.
"They violated U.S. laws that exist to protect the Foreign Policy of our country and all Americans both at home and abroad. While I respect the right of any person to voice opposition to a Government or its policies, this case is a good example of how not to do so," said United States Attorney Andrew M.
Luger.
Sentences of three months to one year
The men faced a maximum of 20 years in prison for violating the neutrality act, possessing a firearm in furtherance of a crime of violence and smuggling firearms but only got a couple of months jail time and a couple of hundred dollar fines.
Court documents say Manneh, Njie and Barrow did researching, planning, and supplying for the execution of the coup and all four including two others, Lt. Col. Lamin Sanneh and Captain Njaga Jagne engaged in the military planning of the coup, operational planning, identifying weapons and coordinating logistic efforts. Nearly $300,000 USD was spent in the execution of the plot that has seen President Yahya Jammeh arrest families of those involved including children as young as 13 and grandmothers as old as 85.
Manneh of Jonesboro, Georgia and Barrow of Lavergne, Tennessee were sentenced to six months in prison with three years probation and a fine of $200. Njie of Lakeway, Texas was sentenced to one year in prison with three year probation and a fine of $10,000 while Papa Faal of Brooklyn Park, Minnesota, a former US Airforce Seargent was released on time served but has three year probation to complete.
Sanneh (who was the commander of Mr. Jammeh's elite presidential guard) and Jagne died in the attack.
May not be the verdict President Jammeh wants
At least six members of the Gambia's armed forces, including two of President Yahya Jammeh's personal bodyguards are appealing their death and life penalties imposed on them by a secret court martial. President Yahya Jammeh's administration was expecting nothing less than a ten year prison sentence. Jammeh has accused the United States of being a part of the thwarted effort to end his rule saying "the terrorists were backed by some foreign powers." In The Gambia, they would have had nothing but the death penalty.
In 2009 and 2011, a federal judge in California dropped charges of violating the century old Neutrality Act law against a dozen members of the Hmong Community including a retired US General and a former Vietnam-era General for buying and transporting arms to overthrow the communist regime of Laos "in the interest of justice."