Female suicide bomber accompanied by a teenager killed with bow and arrow
Rate this title
Boko Haram, which has pledged allegiance to ISIS has increased its suicide missions across borders causing more casualities.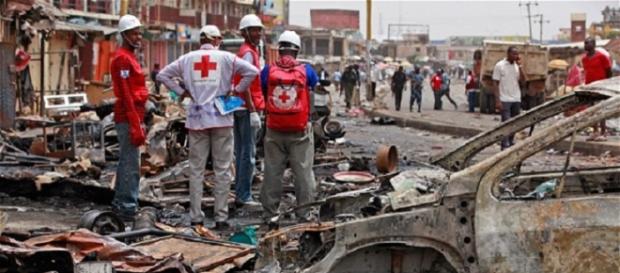 A woman strapped with an explosive vest was killed with a poisoned arrow by a vigilante group in northern Cameroon. The woman, who is around her early 40s with a 14-year-old girl crossed the border from Nigeria in the volatile area mostly targeted by Boko Haram militants. The teenager was also strapped with explosives. Vigilantes used a bow and arrow to kill the would-be suicide bomber after she failed to heed to repeated demands to stop. The teenage girl died after she detonated her explosives. At least five suicide bombers died last week in the area according to media reports.
President Paul Biya in Nigeria
Cameroonian President Paul Biya is in Abuja meeting with President Mohammadu Buhari to identify schemes to extinguish the Boko Haram crisis.
The Nigerian homegrown militant group has become the deadliest terrorist group across the world and using teenagers, mostly young girls to carry suicide missions in the Lake Chad region.
In March, a young girl on a suicide mission was arrested by Cameroonian forces and she later claimed to be one of the more than 200 missing Chibok girls. The claim turned out to be false. She has been handed over to Nigerian authorities.
Boko Haram's terror campaign and destruction has left Nigeria with the highest civilian terror related deaths and half of all civilian deaths in an African war zone. More than 10,000 people have died and over a million others have been displaced.
Boko Haram kills more people than ISIS
Boko Haram and ISIS are responsible for more than half of terrorist related deaths but rights group and the Global Terrorist Index indicate Boko Haram is leading ISIS in this regard.
President Buhari reassured Nigerians that his administration is very much determined to wipe out Boko Haram and bring all perpetrators of these heinous crimes against humanity to justice. He has declared a technical victory against the group. Buhari won Nigeria's presidential election as a former military general with a campaign agenda to disable the homegrown terrorist group.
Boko Haram-related deaths have increased by over 300% as they move across borders launching attacks in Chad, Niger, and Cameroon. A multi-national force has been created by these nations to fight the extremist group.
In Febrauary, at least 70 people were killed in a double suicide bomb attack in a refugee camp in Dikwa (some 50 miles from Maiduguri) housing those escaping the Boko Haram insurgency. Suicide attacks by the insurgents are increasing, though President Buhari's national security team said the military destroyed most of the groups bomb making materials in an attack earlier this year.
Click to read more
and watch the video
or