Egypt jails two journalists as the world celebrate press freedom day
Egyptian press union have called for the resignation of their interior minister and deplored the raid.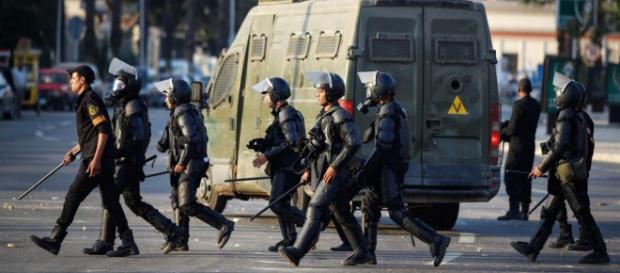 A court in Egypt has committed to custody two journalists who were organizing a protest in Cairo for incitement for 15 days after police raided their office and arrested them. They are also being investigated for calling for a coup to oust the Government of President Abdel Fattah el-Sisi.
Amr Badr and Mahmud el-Sakka are part of web journal opposed to President el-Sisi's rule. They had made announcements before that they would be joining a proposed April protest against el-Sisi's infamous decision to give two Red Sea islands to Saudi Arabia.
President el-Sisi faces resistance for handing over Red Sea islands to Saudi.
Egyptian President Alfatah Al-Sisi has come under pressure after Egyptians protesters took to the streets against the handing over of two other Red Sea islands – Tiran and Sanafir to Saudi Arabia.
Khartoum is now demanding copies of the agreement to "gauge the impact of the agreement" on their maritime borders.
Sudan has taken legal and political measures to reclaim the islands of Halayeb and Shalatin, which are also in the Red Sea heightening claims that it has sovereign rights over them.
Saudi Arabia signed a USD $20 billion deal to finance Egypt's petroleum needs for the next five years and a USD $1.5 billion deal to develop and secure its Sinai region, which has been a target for ISIS fighters.
Protesters detained without charge
Egyptian police arrested more than a thousand protesters with hundreds still in detention without a court appearance. Authorities in the North African nation are on a nationwide crackdown on protests without approval from the local police. The stifling of dissent is said to target supporters of Egypt's Islamist former President Muhammed Morsi.
President el-Sisi was the chief of the military when Morsi was president. He overthrew him in a coup and with his strong military support became President. In 2011, Egyptians rose to a revolution which ousted long-time ruler Hosni Mubarak. Since el-Sisi came to power, many of the group leaders who spearheaded the Egyptian uprising have been jailed. President el-Sisi's government has been criticized by rights groups for jailing critics and opponents.
Click to read more
and watch the video
or