Comoros to hold re-run of presidential votes in certain areas of the country
Rate this title
Constitutional court says that about 6,000 voters were prevented from casting their ballots.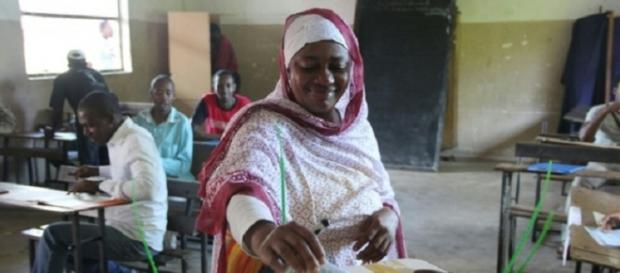 The Constitutional Court in the Indian Ocean archipelago of Comoros has made a decision that might change the results of the country's presidential elections. Due to irregularities after about 6,000 people were prevented from voting in the second round of the polls in Anjouan, Comorians will return to the polls on May 11th in 13 constituencies for a partial re-run of the votes.
Campaigns started yesterday and will end on May 9th according to a release from the presidency.
A junta leader head-to-head with a technocrat
Former coup leader Azali Assoumani won last month's polls with 40.98 percent of the vote. The ruling party candidate, Vice President Mohamed Ali Soilihi came second with 39.87 percent.
Election day in the island between Mozambique and Madagascar was marked with incidents of broken ballot boxes, violence, ballot stuffing, and interruptions of votes.
Assoumani took over power as a military ruler in 1999 after ousting acting President Tadjidine Ben Said Mssounde. His term ended in 2006 when he stepped down. He had two decades of military experience and qualified as a parachutist at the Royal Military Academy in Morocco. After receiving training from the French military academy, he became a senior officer of the defense force as a colonel and the chief of the island's national army development.
Vice President Mohamed Ali Soilihi is an agricultural engineer who was Minister of Production from January 1985 to March 1990 and Minister of Finance and Budget from December 1996 to June 1998 and from March 2007 to June 2009.
VP Soilihi won the first round of voting with 17.61 percent of the votes.
A rotating presidency between the three islands that form the nation
At least twenty-five candidates were hopeful of becoming president including Governor of Grande Mouigni Baraka Said Soilihi, former Speaker of the House Bourhane Hamidou, and a former Member of Parliament Fahmi Said Ibrahim El Maceli.
Presidency in Comoros is rotated between the three islands that form the nation every four years and the rights of those holding dual citizenship to vote has become a key important discussion for diaspora Comorians especially those in France. The majority Sunni Muslim nation of 800,000 people is known for exporting perfume essence, cloves, and vanilla.
Click to read more
and watch the video
or