Canadian wildfires worsen, spread across borders
As Alberta forest fire nearly doubles in size, evacuation notices are given for northern BC communities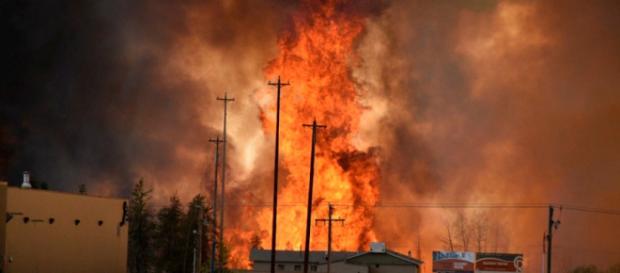 While the forest fire in northern Alberta continues to burn, undaunted by the efforts of some 500 firefighters sent from across the province, a new threat has emerged in the neighboring province of British Columbia where the larger of a pair of fires has grown to over 17,000 hectares, (42,007 acres) breaching provincial lines Saturday. 
While the B.C. fire poses no immediate threat to the communities evacuated by the larger fire on Tuesday, wildfire fighters have now been deployed in Alberta to begin attempting to contain it from that province as well. The small communities of Siphon Creek, Doig River, Clearview/Cecil Lake, Beatton Airport Road, and Blueberry River have all been evacuated and an Evacuation Centre has been established in nearby Fort St.
John. 
Only rain will help Alberta fire
On Saturday, it was reported by Alberta Wildfire Manager, Chad Morrison, that Fort McMurray/Wood Buffalo fire in eastern Alberta will have grown to over 200,000 hectares, (494210 acres) by the end of that day and continues to grow in extremely dry conditions. (Comparatively, the city of Los Angeles is 120,000 hectares.) The 500 firefighters battling the blaze in forested areas, as well as from inside the city of Fort McMurray, have been aided by 15 helicopters, 14 air tankers, and 88 other pieces of large equipment. However, Morrison and other government officials have stressed that the fire will continue its destructive path until the area is gifted with a great deal of rain. 
Morrison said that they need a "significant" amount of rain - at least 100 millimetres.
If not, then he expects firefighters will be busy "fighting the fire in the forested area for months to come," .
Alberta Premier Rachel Notley said that the fire is not under control. The eastern edge of the fire is expected to breach the Saskatchewan provincial border this weekend. 
Eastern Canadian fire forces evacuations
Meanwhile, a set of fires in Manitoba's cottage country have begun prompting evacuations of small towns from neighboring Ontario. The southern Caddy Lake fire has consumed at least 700 hectares, (1730 acres,) while the larger Beresford Lake fire has grown to over 13,000 hectares, (32,123 acres,) spilling into Ontario. The number of evacuees is relatively small, totaling less than 100, but due to the remote area of the fires, there is limited ground access and it is currently being fought by nine inter-provincial water bombers. 
In total, 149 wildfires are currently burning across Canada with 15 listed as "uncontrolled" by the Wildland Fire Information System.
Click to read more
and watch the video
or