Calls for international sanctions against The Gambia to end illegal timber export to China
Rate this title
Senegal says all of the illegal timber from Cassamance is conflict timber sold to The Gambia for exportation to China.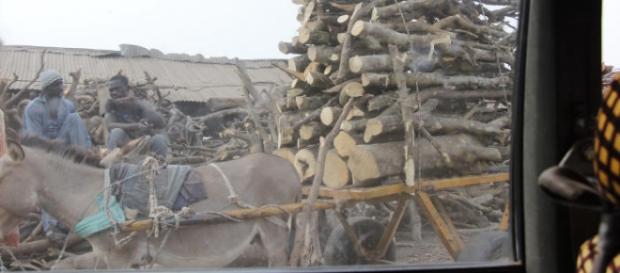 Ecologist and former Senegalese Environment Minister Haidar El Ali said Thursday that international sanctions must be placed on the export of wood from The Gambia or else southern Senegal will lose almost all of its forest in two years after illegal timber exports along the border amass more than USD $238 million. The Gambia is only second to Nigeria in timber exports and has a ban on its exportation; but this does not stop the free movement of trucks and small timber processing factories freely operating in big cities like Brikama.
All timber exported from The Gambia said to be illegal
The borders between The Gambia and Senegal are porous and the Senegalese Government's forestry policy prioritizes tree planting and desertification prevention.
40 percent of Senegal is covered by forest, most of it in its Cassamance region. 20 percent of this is its primary forest. Senegal's Cassamancee has 30,000 hectares of forest remaining and The Gambia just 4,000 hectares. All of the timber exported out of The Gambia primarily to China is from Senegal; making all of the timber exported from The Gambia illegal.
Ali said exportation licenses needs to be checked and those involved in the trade must be prosecuted. But poverty and corruption make this even more difficult.
Before 2010, there were no records of exportation of timber to China from The Gambia.  But since then Cassamance has lost more than a million trees and within 2010 to 2013, exportation of timber from The Gambia went from 6,734 m3 to 121,938 m3; from USD $2,871,421 to USD $66,665,881 in revenue and from one container to 10 per day with the accelerated depletion of Cassamance forest cover being registered.
60% of China's import of timber is from Africa and nearly half of this, about 31 percent of its total imports is from The Gambia.
Senegal calls it 'conflict timber'
Senegal considers the timber illegal traded in The Gambia as 'conflict timber.' The low level Cassamance crisis makes it all convenient for local traders and Chinese middlemen to carry out the illegal trade without much hindrance. Senegal had previously ceased properties belonging to The Gambia's President Yahya Jammeh, who is involved in the trade.
Nearly all of the majority of rosewood timber exported to The Gambia have been sold directly by the MFDC separatist rebels, who are being allegedly supported by President Jammeh. Environmentalists say the problem can be solved through a cross-border forestry management between Senegal, The Gambia and Guinea Bissau with China developing a policy for legal timber production and manufacturing facilities that use them.
Interpol says 15 to 31 percent of all commercial timber are illegally sold and exported.
Click to read more
and watch the video
or