DR Congo is in political crisis and has been ravaged by war for decades. Kidnapping is becoming profitable for armed groups, as Sam Phatey reports.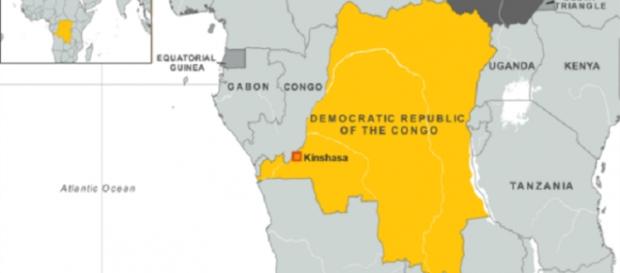 Local Red Cross workers sent to Rutshuru in the troubled Nord-Kivu province in the Democratic Republic of Congo have been kidnapped by unidentified armed men since Tuesday, the aid group said. Elizabeth Cloutier, the ICRC spokesperson, said that they had no News from three of their staffers shortly after 9:00AM local time, but did not give any further details to the media.
The Congolese military said they have no details about the kidnapping and the assailants, and that the aid workers did not follow protocol to notify the army before going into militia controlled areas.
Congo has become a hot bed for the kidnapping of aid workers for ransom.
At least seven Save the Children workers were held hostage for a week in the same province and the UN expressed concerns over the growing trend of attacks against aid workers in Congo, Darfur, and South Sudan.
Kidnapping for ransom skyrocketing 
Human Rights Watch said at least 200 people have been kidnapped for ransom in Congo last year. Rescue missions resulted in casualties and at least the death of three hostages. Kidnappers are heavily armed with AK-47 assault rifles and sometimes include minors dressed in military fatigues.
"The alarming increase in kidnappings is a grave threat to the people of eastern Congo," warned Ida Sawyer, senior Africa researcher at Human Rights Watch. "Congolese authorities should urgently establish a special police unit to help rescue hostages and investigate and prosecute those responsible."
Reports say kidnappers torture their hostages, forcing families and employers to pay for their release.
Kidnappers demanded up to $30,000. Some locals accused the Congolese army of participating in the kidnappings, but there has been no evidence of such by investigators. Families often fail to involve authorities and negotiate to pay lesser ransoms.
Decades of violence ravaged Congo
Ethnic related violence has marked more than two decades of conflict in the Nord-Kivu province, which is rich in mineral resources. It has been difficult to provide aid in the volatile region of the Congo. The province shares borders with Rwanda and Uganda. Nearly 20 armed groups remain in the province, often attacking locals.
The Democratic Republic of Congo has been ravaged by conflict for decades, but worsened after the 1994 Rwandan genocide. It has been under an UN monitored ceasefire with rebels since 1999. President Joseph Kabila's father, Laurent Kabila, accused Rwanda of exploiting DRC's resources and with the help of Angola, Namibia and Zimbabwe overthrew President Mobutu Sese Siko and pushed Rwandan and Uganda troops out of the Central African nation.
Click to read more
and watch the video
or