At least 30 UDP supporters detained without charge said to be at Janjangbureh prison
Rate this title
About six women have been released by a court with international pressure mounting on Banjul.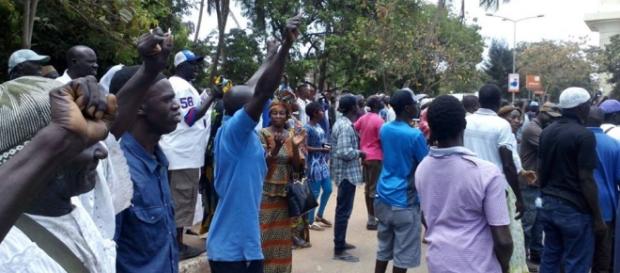 Thirty-three members of the Gambia's opposition United Democratic Party (UDP) who went out on May 9th to show solidarity with the detained party leader Ousainou Darboe with #GambiaRising protesters and subsequently arrested are still not produced in court but reportedly sent to Janjangbureh prison, in the Central River Region of the country, some 155 miles from the capital, Banjul.
The 33 people are being held in the island city's state prison, denied access to the court system. They are among 46 UDP peaceful protesters arrested and detained from two different locations during protests in support of the ongoing protests in the West African country, which resulted to the detainment of the UDP party leader since April.
Some women released on bail
The UDP confirmed that seven people reported to have been arrested were indeed not arrested, thereby bringing down the number to 39 people detained. Out of that remaining 39 people, only six people all of whom are women were released on bail last Thursday by the Kanifing Magistrate Court. 
The women who are familiar faces in the Gambia uprising and bailed on Thursday were separately detained at the Kanifing Police Intervention Unit; among them was a mother of a one-month old baby named Aisha Fatty, who was also under detention with her mother. The Kanifing Magistrate Court granted them bail in the sum of D20,000 with a Gambian surety each who swore to an affidavit of means, deposited to the court, their national identification cards and addresses and particulars.
The six women are charged with conspiracy, unlawful assembly, riot, incitement of violence, riotously interfering with vehicles, holding procession without a permit and disobeying an order to disperse from an unlawful procession. The 33 peaceful protesters reportedly detained are denied their rights to access their families, friends and even lawyers. The UDP calls for their immediate release saying the delay in producing them or been charging or released after 72 hours in detention is a violation of their rights according to the Constitution of The Gambia.
Gambia uprising
The Gambia uprising started on April 14, when members of the opposition UDP staged a peaceful protest in demand for justice and electoral reform. They were arrested and detained. One of them name Solo Sandeng was reportedly tortured to death under state custody.
The reported death of Sandeng prompted another peaceful protest on April 16, led by the party leader Ousainou Darboe and the executive members. They were also arrested and still under detention at the state central prison of Mile II. They are currently standing trial at the Gambia High Court, a case denounced by the international community calling it politically motivated.
Click to read more
and watch the video
or