UN Chief extended his "heartfelt condolences" to the families of the deceased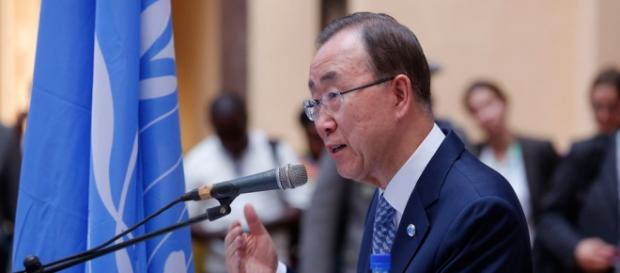 UN calls for investigation into deaths
The UDP and UN secretariats have said at least three people have died in the Gambia after a rare opposition protest against President Yahya Jammeh's rule. Protesters who were chanting anti-Government slogans demanded electoral reforms and for the former military ruler to resign.
Dismayed UN Secretary-General Ban Ki Moon said he is deeply concerned about the apparent use of excessive force and the arrest and detention of peaceful demonstrators. He has called on Gambian authorities to conduct a prompt, thorough and independent investigation. He has called for their immediate and unconditional release and for President Yahya Jammeh's government to uphold the rights of the Gambian people to freedom of expression and peaceful assembly.
The UDP said that seven of those arrested were youth members of its executive. "They were brutally tortured and so far the UDP can confirm that three of its seven young executive members have died in state custody following two days of continued brutal torture meted out to them," the party said in a statement.
The party confirmed that one of the dead is Solo Sandeng, their organizing secretary but have yet to confirm the identity of the other two. Security sources however confirmed that two other women, including a UDP youth leader, Fatoumata Juwara are seriously injured and were beaten into coma.
Jammeh willing to do anything to stay in power
Security forces opened fire at protesters about half a mile from the US Embassy along Kairaba Avenue in Serrekunda, some nine miles from the seat of the presidency in the island capital of Banjul.
President Yahya Jammeh's critics have accused him of entrenching himself in power and rights groups say security forces harass, intimidate, and abuse critics of the African strongman who has voiced dissent toward the West and promised to kill anyone who threatens his stay in power.
Jammeh has survived at least a dozen coups. In December 2013, a handful of Gambian dissidents including Mr Jammeh's former elite presidential guard commander Lt. Col. Lamin Sanneh conspired and bought M16 assault rifles and other sophisticated arms, smuggled them in barrels marked as used clothing to the West African nation to overthrow the former Wrestler. They were ambushed and at least three of the attackers including a former US Army Captain Njaga Jagne were killed.
President Jammeh has vowed to take any measure to maintain peace and order in the country warning the international community not to meddle in the country's domestic affairs. The United States has called for the police to end the violent suppression of the peaceful protests and urged calm and restraint.
UDP party leader Ousainou Darboe however said he is not going to allow anyone to trample on their rights on the pretext you want to maintain security and stability in this country. Amnesty International has called for the immediate release of all detained protesters and for those injured to be given urgent medical care.
Click to read more
and watch the video
or