There is more to Banjul-Moscow relations than bilateral ties
Sam Phatey explains the security and financial reasons why The Gambia has a new embassy in Russia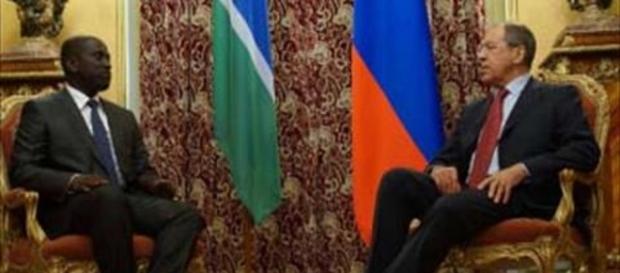 A Russian foothold in the Atlantic
In November 2014, Russia's Defense Minister Sergei Shoigu said Russia will maintain military presence in western Atlantic and in July 2015, President Vladimir Putin approved a measure to give his country a strong presence in the Atlantic in response to a NATO troops expansion following the invasion of Ukraine and threats to neighboring nations.
But six months before Minister Shoigu's infamous announcement, President Yahya Jammeh sent his former Secretary General Momodou Sabally to Moscow. It was seen as the first step towards what is regarded the strategic cover up with the opening of a Gambian Embassy in Russia.
Sabally held talks with the Russian Foreign Minister Sergei Lavrov centered on the strengthening of ties between Banjul and Moscow. Neither Banjul nor Moscow elaborated further but afterwards, not only did Victor Ivanov, anti-drug chief visit Banjul, the two nations signed a defense agreement and The Gambia hosted a Moscow sponsored anti-drug dialogue.
Russia has good bilateral relations with Senegal; but Senegal has very strong military ties and cooperation with the United States and France, which are NATO members. The Kremlin is not necessarily out of options. There lies The Gambia with a river that gives access to mainland Africa and the Atlantic Ocean.
Defense Minister Sergei Shoigu said his country planned for Russian long-range bombers to "patrol missions from the Arctic Ocean to the Caribbean and the Gulf of Mexico." What better country to have some naval ships to anchor than the Port of Banjul.
President Yahya Jammeh did announce that he plans to build a "deep port" into the Atlantic. Banjul does not need and cannot finance it but it matches military interest if it would be funded by the Russian Federation. Jammeh has been isolated and a Russian presence might not give him the leverage he wants but will at least give some form of influence.
Checkbook diplomacy for an insolvent nation
In June 2015, The Gambia entered an agreement with the International Monetary Fund to reduce its number of embassies. It relegated its embassy in Paris to a consulate and closed three other embassies because it could not afford to maintain them.
Sidi Sanneh is a Gambian economist and former diplomat. He is not sure why the IMF is not openly opposed to this as it is against the agreement in the Staff Monitoring Program. He agrees that Russia is looking for a foothold in the Atlantic.
President Jammeh's administration is faced with high domestic and unserviceable international debt. Key funding partners like the European Union continue to withhold millions of development and budgetary aid due to his battered human rights record.
He has since named the country an "Islamic Republic" in hopes for financial assistance from Gulf and Arab states like Kuwait and Qatar. 
"It needs anyone, fraudster and foreign Government alike, to extend its lease of life," said Dr Amadou Janneh, who was Jammeh's former information minister.
If the Gambia cooperates with Moscow, forget human rights, it will get quite some "big checks" from the Kremlin.
Jammeh left the Commonwealth over his rights records. He is now going to nation's with worst records like China and Russia as he did when he first came to power (turning to rights abusing nations like Libya, Cuba and later Venezuela) for assistance.