The latest French el-Khomri protests turns violent with 215 arrests and tear gassing
Rate this title
Opponents of the el-Khomri labor draft clash with police in Nantes, France earlier this week.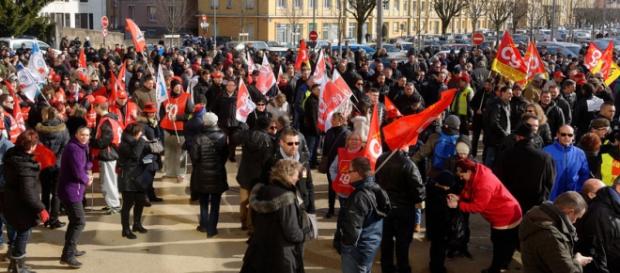 The students and workers of France clashed with police on Thursday, April 28th over the proposed el-Khomri draft law. The bill was named for Labour Minister Myriam el-Khomri and it allows employers to increase work week hours without increased overtime pay and justifies layoffs due to "economic" reasons. 
Chaos in Nantes
Over 214 people were arrested on Thursday in a nationwide protest against the proposed law. The most notable clash took place in France's sixth largest city (Nantes), which is located in the northwestern part of the country. In a YouTube video posted by Ruptly TV, police clad in riot gear tear gassed a crowd of students and union workers. According to French Interior Minister Bernard Cazeneuve, 78 officers were hurt in the altercation.
French Prime Minister Manuel Valls condemned the violence on Facebook. "I strongly condemn the violence of a minority of irresponsible [people]. They must be held accountable before justice. Support for the police officers," said Valls.
The issue at hand was the already tense situation regarding the French unemployment rate, which is currently at an almost record 10.6 percent. The French standard workweek is 35 hours but the new changes in the el-Khomri bill would allow employers to increase working hours without increasing overtime pay. Currently, French workers garner 10 and 50 cent per hour for overtime. That rate is likely not to change even though the hours will. Protesters believe that this would undermine the 35-hour workweek, which has been mostly applauded as a model standard because it facilitates more of work-life balance as opposed to the American workweek of 40 hours per week.
In addition, opponents charge that the el-Khomri draft would allow employers to fire employees for falling sales or operating losses, thereby undermining job security and increasing the unemployment rate. As a result, protestors have dubbed the law "pro-employer."
Proponents of the draft disagree and say that it gives employees more choice by allowing them to vote on a workplace-to-workplace basis to increase workweek hours. Prime Minister Valls says that the employment reforms would also allow small businesses to offer employees more permanent jobs, which would increase job security and lower the unemployment rate. "They [young people] are the principle victims of the present system, which forces employers to offer one short-term contract after another," says Valls.
Currently, 90% of French jobs are granted on short-term contracts. However, this is a system that has been working since it was adopted by former Prime Minister Lionel Jospin Plural Left and former Minister of Labour Martine Aubry in February 2000.
Aubry has since resigned from the Socialist Party and has joined the protestors in denouncing the proposed draft.
It was initially proposed by French President Francois Hollande and has only hurt his already poor approval ratings. Just before the 2015 Paris Attacks, TNS Sofres surveyed the public in Le Figaro magazine on unemployment and the stagnant economy. Hollande received a 15% approval rating and a whopping 82% voted no confidence in the French President's ability to fix the country's economic problems. His approval level dropped as low as 13% in September 2014 and spiked at 40% after the Paris attacks. Hollande is up for re-election in 2017. 
Month-long protests plague the nation
This week's attacks are just the latest in month-long protest across the country. In Place de la Republique in Paris, France, the social movement, Nuit debout was started on March 31st. It translates roughly to "night stand" and features a group of protestors who hold nightly assemblies. Many compare the movement to America's Occupy Wall Street protests, where protestors camped overnight on Wall Street to protest the 1% rule over the 99% of Americans. Currently, there is no word as to whether the draft will pass, but political watchers are almost certain that it will.
Click to read more
and watch the video
or