Someone 'face-swapped' Queen Elizabeth II and Prince George and it's scary
Rate this title
As the royals got together for the latest in family portraits, someone decided to do the unthinkable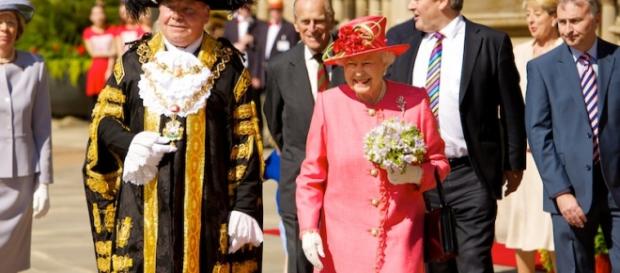 As Queen Elizabeth II heads towards her 90th birthday on Thursday this week, some great new family group photos were duly taken.
It's not every day that the head of a royal family reaches such an advanced age and some of the new family photos are to be used for a special set of stamps to be released by Royal Mail to commemorate this special occasion, as the Queen becomes the longest living female British monarch.
While the royal family is essentially British, the photos doing the rounds in the media and online captured the attention of many people all over the world, with many "ooh-ing and ah-ing" over how cute young Prince George looks as he poses for his very first stamp.
And he does look really, really cute. In the original photo anyway.
The particular photo in question shows Prince Charles, Queen Elizabeth II, Prince George and Prince William, sitting smiling and looking suitably regal. Have a look below:
.@RoyalMail celebrates #Queenat90 with a specially commissioned Stamp Sheet of 4 generations of the Royal Family pic.twitter.com/ypzbjdB6T1

— BritishMonarchy (@BritishMonarchy) April 20, 2016
Spoiling the moment by face-swapping royalty
However, the Internet being the Internet, some bright spark decided to ruin this historic moment completely. Said person took it into their head to face-swap the soon-to-be 90-year-old Queen of England with her cute great grandson, Prince George and the result is, well, scary. Have a look at the image below. They did a really good job:
Guys, I just faceswapped the Queen and Prince George. #SCREAMING pic.twitter.com/gbmDtmC9fh

— Jenny (@jennywhojenny) April 19, 2016
The culprit is a Twitter user by the name of "Jenny" who reportedly lives in Wisbech in England, but on her profile it does note that this is a parody account.
"She" added a comment that read, "Guys, I just faceswapped the Queen and Prince George. #SCREAMING"
Next in the thread, "Jenny" followed that up by tweeting, "I can't stop laughing at Demon Prince George. Baby Queen is bare cute."
The tweet caused some hilarity as it went viral, and many responses, with one user named Wibble stating that they both look like William Hague -- Britain's First Secretary of State -- while Tony Blampied tweeted to the effect that, "They look like one of Dr Moreau's less successful experiments."
Jenny later in the day shared a media article by the Telegraph, where Buckingham Palace is reportedly looking for someone to run the Queen's Facebook and Twitter accounts and she has volunteered for the position:
"Dear Queen, I faceswapped u and ur great-grandson once, pick me" https://t.co/H1b8oXEtfG

— Jenny (@jennywhojenny) April 20, 2016
Whether her Royal highness has seen the face-swap is unknown, but most likely she would have used the words of her venerable ancestor, Queen Victoria, if she had. Victoria was reportedly a much grumpier Queen and is credited with having said at one stage, "We are not amused."
Click to read more
and watch the video
or