Solo Sandeng, those reportedly tortured have appeared in court or on court documents
Rate this title
Sandeng was reportedly tortured to death with two other unidentified protesters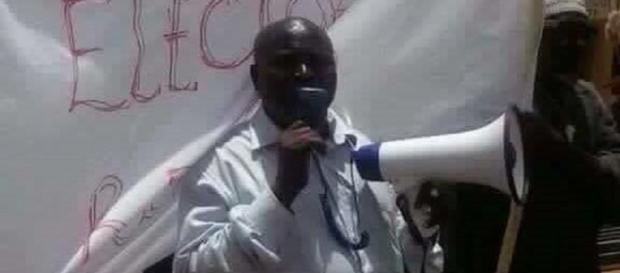 Retaliation/torture against protest participants
At least 18 people appeared before Justice Ottaba of the High Court in The Gambia's capital Banjul except for Solo Sandeng, Fatoumata Jawara and Nogoi Njai. Sandeng was reportedly tortured to death on the night of his arrest and Ms Jawara and Njai were said to be seriously injured or in a coma.
The country's Information Minister Sheriff Bojang told the AFP he had no clue if the detained opposition protesters had died in custody or where they are being detained, but asserted the demonstrations they held were illegal. The United Democratic Party and the United Nations said at least three protesters have died.
They were last seen being arrested by the riot police at Thursday's protest.
"This is The Gambia, we have rules and laws governing us and one of the laws states that before you embark on such a thing, you must seek and obtain a permit from the police and this isn't done in his case and they were dispersed and detained," Bojang told reporters in Banjul.
Freedom of assembly is guaranteed under Gambian laws but has been denied to opposition parties, civil society groups and critics of the regime in Banjul. However, supporters of President Jammeh's Government hold marches anytime without permits and none of such solidarity march organizers have been prosecuted or arrested.
Amnesty International said the tragic death in detention of Solo Sandeng must leave no space for impunity and have asked Gambian authorities to conduct an immediate, thorough and independent investigation.
UDP leader Ousainou Darboe who has been charged for leading a protest last Saturday demanding for Sandeng's release told Justice Ottaba that his release will be meaningless if Sandeng, Jawara, Njai and others continue to be detained. He maintains that the government must free them – dead or alive.
Rights campaigners say the burden to prove that Sandeng and two others (whose identities are yet to be released) are alive is on the government. Activists accuse the government of hiding facts by omitting Mr Sandeng, Ms Njai and Ms Jawara's name from court documents of those accused and not having them present in court makes the accusations substantial.
AU, UK and ECOWAS have called for those responsible for the deaths to be brought to justice but The Gambia has continuously failed to bring perpetrators to book and passed an indemnity act to further protect security officers from prosecution when they use force. Jammeh administration has said they investigated the 1995 death of Finance Minister Koro Ceesay but the report has never been seen and those culpable have not been charged.
Click to read more
and watch the video
or