Rouhani under fire, after his banking chief questioned nuclear deal efficiency
Rate this title
Remarks by the head of Central Bank, who said Iran yet to receive significant benefits from the nuclear deal, put Iranian president on the defensive.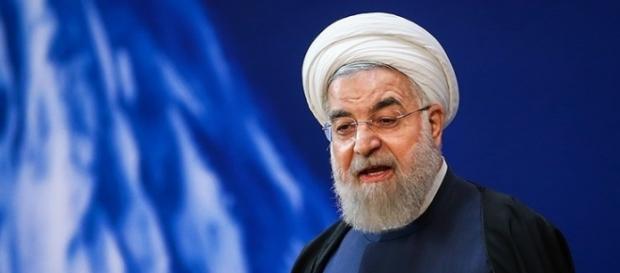 Despite lifting of nuclear-related sanctions, it will take time for Iran to fully restore its troubled economy, President Hassan Rouhani said on Wednesday, in response to critics who say that the United Sates has failed to fully comply with its commitments under a nuclear deal that was implemented in January.
"Only three months have passed since a nuclear deal was implemented, but some people pretend that 30 years have passed. Look at numerous openings that have occurred during the past 3 months," Rouhani said during a public address that was broadcast live on Iran TV.
"Almost nothing"
The remarks were his first reaction to the controversies surrounding a recent comment by the head of Central Bank of Iran Valiollah Seif, who said Tehran has earned "almost nothing" from the nuclear deal.
"One of the needs that we definitely have goes back to converting currencies to pay our suppliers. It requires having access to the U.S. financial system," Seif said in an interview with Bloomberg Television.
These comments gave new ammunition to the opponents who have long insisted that the U.S. is not trustworthy and will cheat after Iran removes most of its nuclear infrastructures.
The day after Seif's interview, several conservative newspapers chose the same headlines in bold: "Almost nothing."
"Despite repeated warnings to the administration about dishonesty of the Americans, now after 3 months since removal of sanctions on the paper, it becomes crystal clear how unreliable and untrustworthy the Western side is," Kayhan daily wrote, accusing the U.S. of using economic pressure to persuade Iran to start negotiations about missiles program and regional issues.
Iran says lack of access to the U.S. dollar and concerns of foreign banks about remaining sanctions against Tehran have discouraged investors from returning to the country.
The White House insisted that reviving the so-called U-Turn mechanism which allows Iran-related transactions to use the U.S. financial system, is off the table, but it may issue new licenses to allow limited access to the dollar, using backdoor methods, such as employing certain off-shore clearing houses to convert currencies to the dollar for foreign transactions with Iran.
On Tuesday, Iranian Foreign minister Moahmmad Javad Zarif said that his country should be able to earn anticipated benefits of the nuclear deal.
Zarif who is in New York to attend a climate change summit, told to the reporters that he has discussed with his American counterpart ways to "make sure that we will draw benefits that Iran is entitled to," according to the Reuters.
More centrifuges
Although President Rouhani continues to put diplomatic pressure on the U.S.
to get more concessions, his critics say there should be practical measures to force Washington to loosen the restrictions.
"The administration believes that the problem will be resolved by more negotiations," said Mehdi Mohammadi, a conservative analyst and former member of the nuclear negotiations team. 
"But I have a suggestion. If the administration is interested in real suspension of the sanctions… it can announce that should banking problems remain unresolved in next 3 months, Iran will install 1000 second generation centrifuges… after starting preparations to install, you will see that how Western banks become 'interested' to restore relations with Iran one after another," Mohammadi said.
Click to read more
and watch the video
or