Road rage: Spanish cop arrested for shooting man dead in traffic incident
An officer from Spain's Civil Guard shot a driver five times in the head while high on cannabis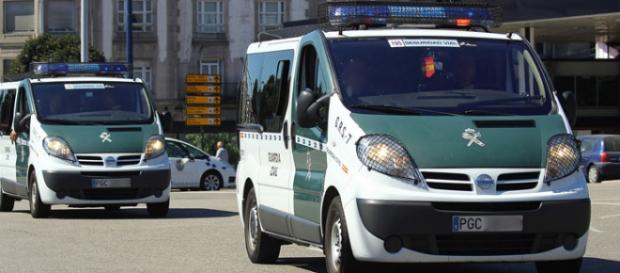 Witnesses at the scene told the police that two cars had collided near Toledo on Monday morning. One was a blue BMW 320 vehicle driven by a Civil Guard officer, named only as Ángel Luis V. J., 31, and the other was an Opel Zafira, driven by a 39-year-old Moroccan national named only as Younes S. Initially the driver of the Opel vehicle had allegedly lightly struck the BMW on the highway with his car, but failed to stop and drove away at speed. Reportedly there was then a prolonged car chase for several miles on the Valencia A-3 motorway.
The Civil Guard officer finally caught up to the Opel driver when one vehicle hit the median strip on the highway, then slewed around to crash into the other vehicle.
The front end of the Opel Zafira was reportedly completely crushed.
Civil Guard officer took aim and fired
An argument then ensued, leading to the officer drawing his gun. According to witnesses, the victim started running away from the scene and the officer then took aim and fired, shooting the victim five times in the head. According to Spanish news agency Efe, when an ambulance arrived the victim was pronounced dead at the scene, within the city limits of Fuentidueña de Tajo. Reportedly the suspect, who had worked with the Civil Guard for 11 years, was on medical leave at the time of the incident due to back problems, but had not, apparently, been asked to turn in his weapon.
Civil Guard officer arrested for shooting driver over traffic spat: The victim allegedly collided with his car... https://t.co/4s1PyWGVn1

— burgerchrist (@burgerchrist) April 25, 2016
Suspect arrested by his fellow officers
The suspect was treated for minor injuries and bruises sustained in the accident and was then arrested by his fellow officers from the Civil Guard and taken to the station in Tres Cantos.
On arrival, Ángel Luis V. J. underwent a saliva test and was found positive for cannabis use, although he had no alcohol in his system. Reportedly the officer's first statement after the incident was that he had acted legitimately in self-defense. However, according to police, there was no weapon found on the victim.
As reported by El Pais, this is the 12th violent death so far in 2016 in that region. In 2015 there were reportedly 31 homicides in the entire year.
Click to read more
and watch the video
or