President Jammeh's half-brother, two of his associates remanded in jail
Bail is set for $2.7 million for Ansumana Jammeh, Sanna Bah and Assan Badjie over graft allegations.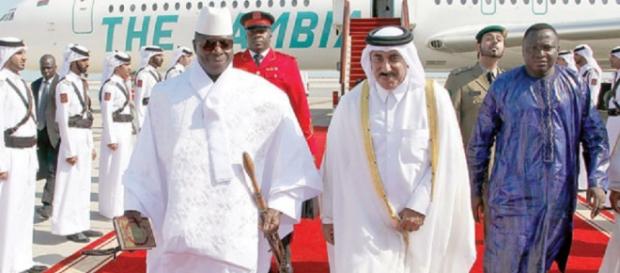 Jammeh caught in the middle of graft allegation
The half-brother of The Gambia's autocratic ruler Ansumana Jammeh and two of his associates Sanna Bah and Assan Badjie have been sent to jail after being charged with official corruption, according to court documents.
Mr Ansumana Jammeh is the President and CEO of the company Maligam, which deals in precious stones, gold, gas and other goods and services. Complaints emerged that the company fraudulently took money from investors and entrepreneurs, with Mr Jammeh using his status as an ambassador and brother to President Yahya Jammeh as a key tool to convince victims.
According to the criminal complaint filed in court by police prosecutors, Jammeh and his colleagues corruptly received USD $1.5 million (GMD 55.5 million Dalasis) from CONAPRO in 2010 and 2011.
The complaint, however, did not indicate what the USD $1.5 million payment to Maligam was for.
Ansumana Jammeh has come under heavy political fire in recent months as a result of his abuses of power and presumed betrayal of President Jammeh, according to the Examiner. Red flags were raised after Ambassador Jammeh was linked to US-con man Kenneth D Jackson.
Bail set at GMD 100 million
Defense counsels for the accused, Attornies Lamin Camara and Uzuma Achigbue, urged the court to give their clients bail. The bail was set at USD $2.7 million (GMD D100,000,000 Dalasis). They are expected to reappear before Magistrate Cham in Banjul on Wednesday.
Conapro Dena-BMS in Qatar provides commercial and technical services to the shipping, marine, oil and gas industries. It has affiliate companies in Lebanon, Saudi Arabia and the Gulf.
The company says it offers an extensive list of specialized port services - stevedoring, operation and maintenance of harbor craft, manning of vessels, ship repair and overhaul, offshore works (including diving and underwater survey), construction, water treatment, pipeline replacement, salvage operations, chartering of boats and vessels and oil spill recovery operations.
While The Gambia does not have gas, President Yahya Jammeh did announce a decade ago that the country has discovered oil, a claim which has been mostly dismissed by researchers and critics. Gas in abundance has been discovered in neighboring Senegal and exploration has begun. The Gambia has navigable river and a port which gives access to mainland Africa. Its ferries had issues a million of Euros had been spent on repairs. It remains unclear if the Maligam deal had anything to do with the so-called oil exploration, the maintenance of the broken ferries or President Yahya Jammeh's recent deep-port construction announcement.
Click to read more
and watch the video
or