Opposition leader Halifa Sallah warns President Jammeh over disappearance protesters
Rate this title
"A government that condones brutality and repression is likely to be isolated by even its supporters," Halifa Sallah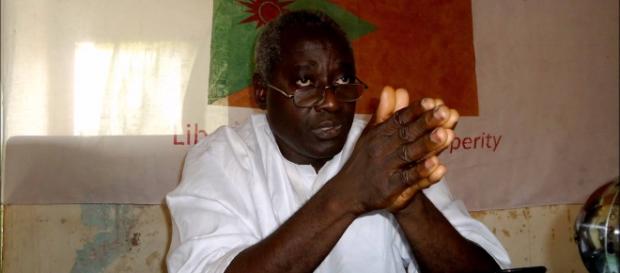 PDOIS presidential nominee Halifa Sallah (former parliamentary minority leader) has written to The Gambia's President Yahya Jammeh cautioning that it would constitute a national tragedy of monumental proportion if Solo Sandeng, Fatoumata Jawara, and Nogoi Njie disappear without a trace after being known to be under arrest and detained by his Government.
Government urged to come clean
He has urged the government to publicly announce what had happened to them with those whose names have been mentioned in court proceedings without appearance, cooperate with the recently reignited inter-party committee to neutralize the brewing crisis and do away with prosecuting the protesters to avoid the threats of coup d'états, mass uprisings, suicide bombings, and armed struggles.
The Gambia's security forces used excessive force to disperse and arrest anti-government protesters demanding electoral reform. The United Nation said at least three people have died. Presidential hopeful Sallah said there would be no room for speculations and that "substantive justice holds that when action is dictated by conscience, criminal intent should not be alleged."
Days before the UN announcement of the deaths, opposition GMC leader Mai Ahmad Fatty warned that torture or death of any protester will be regrettable. At least 50 people have been arrested including UDP leader Ousainou Darboe. They are all facing six charges including inciting violence and rioting. The African Union, the European Union, the United States, ECOWAS and Great Britain have all asked for their release and an independent investigation into allegations of torture-death.
Justice Minister Mama Fatima Singhateh and Information Minister Sheriff Bojang insisted that the protests were illegal and that security forces did what they can to manage the situation at the time. President Yahya Jammeh has warned the international community and other nations to stay of his country domestic affairs, warning he is ruling over a sovereign state. His Deputy Ambassador to the United Nations Samsudeen Sarr has blamed diaspora Gambians of funding the protests as a way to oust his boss and end his 21 year rule of the tiny West African nation.
Anti-government protesters defy odds
Hundreds of people have been gathering and marching every day in Banjul during court hearings for the protesters chanting anti-government songs, demanding for President Jammeh to step down and for the release of Solo Sandeng – dead or alive. Sandeng is said to have been tortured to death on the night of his arrest for leading the protest that sparked the #GambiaRising campaign.
Darboe's support has been massive and the fear that most had to speak against the government that kills or jails its critics seems to have vanished.
Click to read more
and watch the video
or