U.S. President has reportedly sent new letters to the Iranian leaders, calling for cooperation to resolve regional problems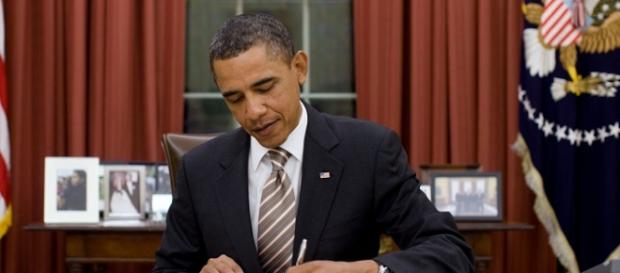 U.S. President Barack Obama has written new secret letters to the Iranian Supreme Leader Ayatollah Ali Khamenei and President Hassan Rouhani, calling on them to help to resolve the regional issues, Iranian opposition claimed on Wednesday. Faced with growing difficulties in Iraq and Syria,  the White House has called on Iran in the past to play "a more constructive role" to stabilize the conflict-ridden Middle East region.
Saham, a website linked to one of the opposition leaders, Mehdi Karoubi, quotes an unnamed source as saying that Obama has asked the Iranian leaders to "cooperate and take part in resolving regional problems, including the crises in Syria, Iraq, and Yemen."
Limited time
During his presidency, Mr.
Obama has sent several letters to the Supreme Leader and at least on one occasion he received a "respectful, but uncommitted" response letter. In his new letter, Mr. Obama reminded Iranian leaders "limited time" that left from his term and declared his readiness "to take part in any conference about the (regional) issues and to meet personally with President Rouhani, should Iran accept," Saham reports.
Obama and Rouhani made headlines in 2013 when the two leaders managed to speak by telephone when the Iranian president was leaving New York after participating in the United Nations General Assembly. But, the Supreme Leader then criticized the conversation, calling that an "improper act."
Positive view
Since the implementation of the landmark deal between Iran and six world powers, the cleric has warned several times against negotiation with the U.S.
about regional matters, saying that Washington is trying to keep the Middle East in turmoil. However, Saham quoting another source claims that in a meeting with President Rouhani, Mr. Khamenei expressed "positive" view about the letters. Iranian officials made no comment about the report and an e-mail sent to the U.S. state department spokesperson Allan Eyre remained unanswered. Either way, one has to wonder what this does for the overall larger conflict in the region.
Click to read more
and watch the video
or