Jammeh the least pleased with the presence of Senegalese Majority Leader at Dakar protest
Rate this title
President Yahya Jammeh has come under international pressure after security forces tortured a senior opposition member to death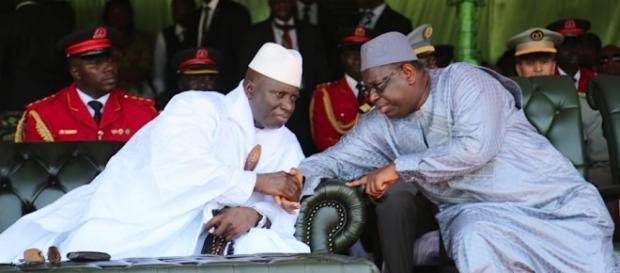 The Gambian President Yahya Jammeh has expressed annoyance at the presence of the Senegalese Majority Leader Mustoha Diahateh's presence at a #GambiaRising protest in Dakar. The presence of the Senegalese top lawmaker has sent a strong message to Banjul, which has not been well received by the African strongman and herbal doctor.
President Jammeh is said to have believed the Senegalese Government took part in organizing the protest making a large crowd of its citizens to join Gambians seeking refuge there with rights group to protest against his regime after security forces clamp down on peaceful protesters killing at least three.
Opposition leader Ousainou Darboe and at least 50 other protesters demanding electoral reform and for the bodies of those killed to be handed over are now being prosecuted for inciting violence.
Diahateh's presence may not be Sall's position
Diahateh is a parliamentary representative for President Macky Sall's APR party, which won elections after defeating President Abdoulaye Wade in a hotly contested poll. Majority Leader Diahateh is close to President Sall and one of the most influential politicians in Senegal. His participation in the protest may not necessary represent the official position of the Sall administration.
"Separation of power is not only guaranteed in Senegal's constitution, it is well exercised. It has independent institutions and Macky Sall may have no connection to Diahateh's presence," said exiled Gambian journalist Sanna Camara.
But Mr Diahateh's position may also be loosely motivated by President Sall's position, though such cannot be made public with Sall being the head of the regional ECOWAS body.
Elhaj Diouf becomes Jammeh's new jester
Two time African Soccer Player of the year and former Liverpool forward Elhaj Diouf visited Banjul, President Jammeh's Vision 2016 rice farms and met with Mr Jammeh at his presidential compound in his home village of Kanilai, about 42 miles west of the capital Banjul. The village is 4.3 miles from Senegal's Casamance region bordering the Fonis in the West Coast region.
President Yahya Jammeh has faced criticism for inviting Senegalese celebrities and lavishing tens of thousands of dollars on them, luxury vehicles, and having them sing his praises. He once called the retired soccer player a douche who is bent on destroying Senegal-Gambia relations. He accused Elhaj Diouf of inciting war against The Gambia.
"He is the evil Senegalese player who said there will be war against The Gambia. Tell Abdoulaye Wade to send his army and they will find my soldiers here," the Gambia's iron fist ruler said of Diouf and then President Wade.
But when the two met recently, Diouf praised Jammeh for his agricultural initiative on food self-sufficiency whiles Jammeh said "The Gambia and Senegal will remain friendly nations and no one can destroy that bond no matter how hard they try."
Relations between the two nations are tense and a border closure coming into its third month is yet to be resolved.
Click to read more
and watch the video
or