Gun shots heard, fighting between Senegalese troops and Cassamance separatists
President Yahya Jammeh reportedly had a covert meeting with Salifu Sarjo, leader of the most radical MFDC faction in the border village of Kanilai.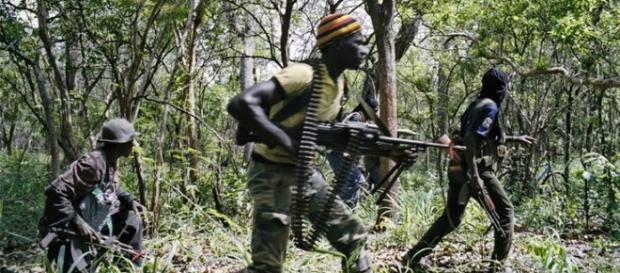 Heavy fighting and gun shots were reported along the Senegalese border with The Gambia days after movement of government troops were reported there. The Senegalese military said it has killed dozens of Cassamance rebels and destroyed marijuana plantations mostly around Bignona Province. At least one Senegalese #Government soldier had minor injuries but the rebels suffered a "heavy causality." The Senegal Gendarmerie did not say how many separatists fighters were killed and made no reference to the number of marijuana fields that were destroyed.
Since 1982, the Senegalese government has been engaged in a minor conflict with the fractioned Movement of Democratic Forces of Cassamance, who is seeking independence.
Cassamance is the southern region of Senegal separated from the north by The Gambia. At least 5,000 people have died since the conflict started in 1982. Peace negotiations led by the Vatican are ongoing and a unilateral cease fire had been in place since May 2014.
Gambia supporting Cassamance rebels
Whiles Senegal gets non-combat support from Morocco, The Gambia has been accused of supporting rebels with food, arms, and ammunitions and logistics. In 2007, factions of the MFDC clashed in Bai Pol village in The Gambia. Separatist rebels were caught with modern and new Iranian weapons at a time The Gambia built relations with Iran and was visited by then Iranian President Mahmoud Ahmedinejad. In 2010, a shipment of 13 containers from Bandar Abbas, a southern Iranian port to port of Banjul was intercepted by Nigeria's secret service in Lagos.
The shipment of rifles, ammunitions, rocket launchers, grenades, missiles, and other explosives were marked as building materials addressed to the Kanilai Family Farms – a company belonging to The Gambia's President Yahya Jammeh – who is said to be the main supporter of the MFDC rebels in Senegal.
At least 100 MFDC fighters that year with heavy weapons and machines guns tried to besiege Bignona killing seven Senegalese government troops.
Rebel produced marijuana and illegally logged timber finds itself in Gambian black market
Marijuana farmed in Cassamance is marketed in The Gambia. The borders between the two nations like most other African countries are porous and less patrolled. Illegal logged timber from the Cassamance region also finds its way to The Gambia where it is sold to Chinese exporters.
Relations between the two neighboring countries have become tense. The borders have been closed for nearly three months after Gambian authorities increased tariffs for commercial vehicles crossing into the tiny country from $7 to $700 without consultation.
President Yahya Jammeh has also refused to commence the building of a crucial bridge funded by the African Development Bank to ease transportation of goods and services with the greater SeneGambia region.
Cassamance is the agricultural and tourist heaven of Senegal. Its people say they do not benefit from the wealth of the region, accusing Dakar of diverting all benefits to develop the capital and cities in the north. #World Politics #Foreign Affairs