Gambia wants other nations to stay out of their business amid an opposition crackdown
Rate this title
President Jammeh has often been isolated in the international community unsuccessfully vying for the ECOWAS chairmanship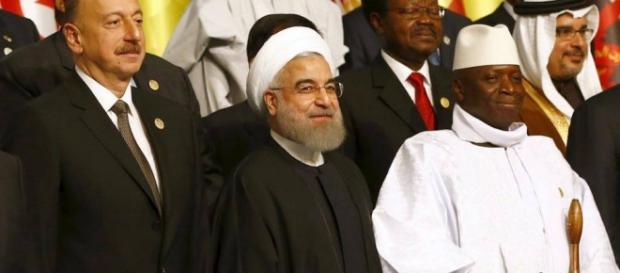 Jammeh expects respect
The Gambia's Government had issued a stern warning to other nations not to interfere in its domestic affairs amid a brutal crackdown on a rare opposition protest, with at least three reported deaths. The warning came after videos and photos emerged on social media of armed police and military officers hitting peaceful protesters who were not resisting arrest. Gunshots were heard and tear gas thrown at the crowd less than half a mile from the US Embassy along Kairaba Avenue.
The authorities of mainland Africa's smallest nation of less than two million people (known as the North Korea of Africa) said that it respects its commitments to upholding the principles of the United Nations in relations to the observance of state sovereignty and non-interference in the internal affairs of other countries and "in the same vein, the Government also expects all the members of the international community to extend the same respect with regard to state sovereignty to the Gambia and desist from interfering in the internal domestic affairs of the country."
Youths demand respect for the rule of law
President Yahya Jammeh is currently attending a summit of Islamic nations in Ankara, Turkey.
Tensions are rising as more people are urged to go out to protest including the country's youth council. It has been the first protest in The Gambia 16 years after the last one in April of 2000 saw at least 14 students killed including a Red Cross volunteer and journalist Omar Barrow.
Gambian youths have taken to social media mobilizing efforts with the hashtags #GambiaRising and #JammehMustGo. They are demanding a wider, and open democratic space for every Gambian.
"We demand a free environment for journalists, for politicians, for human rights activists, electoral reforms and for the ordinary citizens to enjoy their fundamental rights as citizens," they said while urging their colleagues to join them on Monday for a peaceful protest and reminding security forces to ‪respect the constitutional rights of the citizens, and desist from the use of violence.
A rights report by the US State Department released last week said the Jammeh administration repeatedly took steps to restrict the democratic space in the country and used torture, arbitrary arrest, prolonged pretrial, and incommunicado detention; enforced disappearance of citizens, harassment, and abuse of its critics by routinely using various methods of intimidation to retain power.
Click to read more
and watch the video
or