#GambiaRising has gone global with protesters asking Jammeh to resign or be forced to do so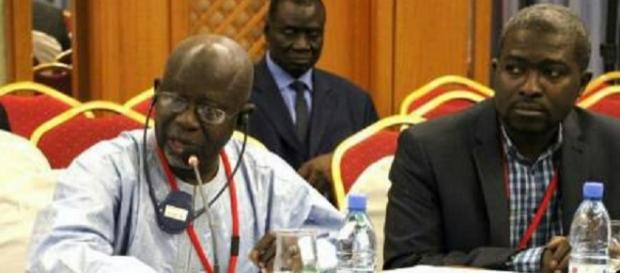 The arrested leader of the Gambia's largest opposition party Ousainou Darboe has attached a condition to his bail, after he and nearly thirty others were arraigned before High Court judge Justice Ottaba in the West African nation's capital, Banjul. Darboe, 66, was arrested during a rare protest demanding the release of his senior opposition figure, Solo Sandeng who led an anti-Government protest demanding electoral reform and the resignation of the country's long time ruler, Yahya Jammeh.
While Darboe awaits bail hearing on Monday, he has defiantly told Justice Ottaba that what is more contentious is the whereabouts of Mr.
Sandeng and others arrested with him. Darboe, a human rights lawyer conditioned his own bail to be dependent on the government's release of Sandeng and other protesters.
"My release from prison would be meaningless if Solo, Ms Fatoumata Jawara, and Ms Nokoi Njie and others arrested on April 14th are to remain in state custody," he said. Very few people including diplomatic observers were allowed in the courtroom while supporters of Mr Darboe were barricaded outside the court premises by the police.
Heavily armed riot police presence in court
The veteran politician and other leaders of the UDP party were escorted to court under heavy paramilitary police security. They insisted their "illegal detention is worth it for the country." Darboe had vied for the country's highest office four times losing to President Yahya Jammeh.
The votes have been marked by irregularities and in 2011, ECOWAS ruled elections in the country as not free and fair and refused to send observers.
The country's former Minority Leader Momodou Sanneh and former National Assembly Member Kemeseng Jammeh were among those arraigned with Mr Darboe on a six count charge including inciting violence. At least three protesters have died in the hands of the police. The international community maintained the protesters were peaceful but the Jammeh administration has warned other nations to not to interfere in the country's internal politics.
The United Nations has since asked for an investiogation and for those responsible for the reported torture and death of the protesters including Mr Sandeng to be brought to justice.
Click to read more
and watch the video
or