Gambia's President rescinds decision to increase truck tariff at border with Senegal
The country's unconventional president bowed to the impact of economic strife being started by the border closure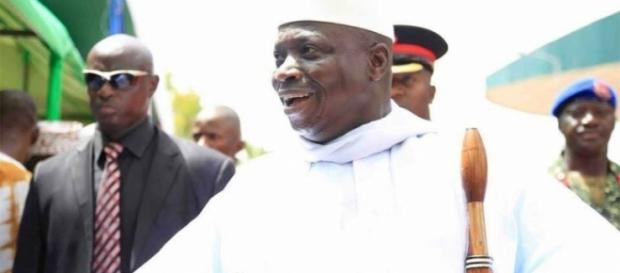 Banjul reverts back to old tariff
President Yahya Jammeh of The Gambia has annulled an executive decision to increase tariffs at his country's borders with Senegal regardless of tonnage from CFA Franc 400,000 (USD $694.92) to the old structure, according to reports in the Senegalese media.
Mr Jammeh filed a complaint at the regional ECOWAS court accusing Senegal of violating the West African bloc's protocol for free movement of people and goods. Jammeh had used closing the border with Senegal (which surrounds small Gambia on all three sides except on the West) as leverage. Senegal having neutralized that is making the economic upshots of the border closure to be felt in The Gambia with surges in price of goods and services, especially livestock.
Jammeh has no respect for ECOWAS
The head of the Senegalese Transport Union says Mr Jammeh "has no respect for ECOWAS and therefore there is nothing to negotiate" with the former wrestler and junta leader turned head of state. His Government is yet to respect decisions made by the same ECOWAS court against it to compensate mostly tortured, disappeared, and killed journalists with their families.
"Jammeh has been thumbing his nose at the regional organization since he seized power in 1994 by refusing to acknowledge, much less recognize, several of the ECOWAS Court of Justice's decisions -- all of which have gone against the regime in Banjul," said Sidi Sanneh, former Gambian diplomat and economist.
President Yahya Jammeh last winter threatened to withdraw from ECOWAS after The Gambia and Togo opposed a proposal by the bloc to introduce presidential term limits in all its member states.
He accused the sub-regional body of being " a puppet of Western powers who are trying to recolonize Africa," and called the proposal "an undemocratic action by the West to control African authorities."
"Democracy is power to the people and not power to the West. I fear only Allah and nobody else. He alone will decide Gambia's destiny," Mr Jammeh said.
While the aftermath of separate ECOWAS meetings with Dakar and Banjul saw the reverting to old tariffs, observers say that the decision is necessitated by The Gambia's needs for future negotiations as the loss in revenue is putting Banjul in more difficult economic states.
Senegalese willing to pay more to avoid Gambia
Unconfirmed reports said The Gambian leader stealthily invited influential citizens from the Southern Senegal region of Cassamance, where Jammeh is said to support separatist movements that have been fighting s decades-long low-level conflict for independence. The Gambia divides Senegal's north and south. Senegalese citizens however are siding with their government and willing to take a 100 mile trip around The Gambia and pay a little more in fares as it takes away from the hardship of having to deal with border crossings and delay of deplorable ferry service across the Gambia's 50 mile strip.
The borders remain close and Senegal's transportation union chief has urged Dakar to stay out of the issue as "this is purely a transportation union matter." The union leader said the matter is beyond Mr Jammeh making a unilateral decision to increase tariffs by 1000% without consultation. It seems that President Yahya Jammeh will have to deal arrest of Gambian transportation union leaders and with his abrupt and unexplained suspension of the Yelli Tenda – Bamba Tenda Bridge project with Senegal and agree to have it resumed as part of conditions to have the border reopened.
Click to read more
and watch the video
or