Gambia's anti-government protests go global
The arrest of anti-government protesters sparked an unrest and protesters have taken to the streets across the world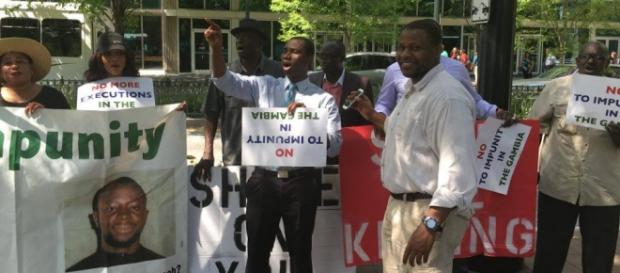 From 10 Downing Street to 2233 Wisconsin Avenue, #GambiaRising protests against President Yahya Jammeh's regime have gone global. Protesters around the world are chanting "Yahya Jammeh must go" demanding the Gambia's eccentric ruler of 21 years resign or be forced to.
President Yahya Jammeh came to power in 1994 as a young military lieutenant. He was the personal bodyguard of then President Sir Dawda Jawara. After overthrowing Mr Jawara, Jammeh promised Gambians he would transform the impoverished nation into an "economic superpower and the Dubai of Africa." He failed his promises and now faces a frustrated nation. The Gambia is a popular tourist destination mostly for Scandinavians and British holidaymakers.
It is surrounded on all sides except for the short 50 mile Atlantic strip on the West.
Opposition protesters led by UDP Organizing Secretary Solo Sandeng were demanding for electoral reform at a brief rally in the commercial capital Serrekunda when riot police from the intervention unit emerged – beating, kicking, and firing at them. At least two dozen people were arrested that Thursday morning. Reports emerged that Sandeng and at least two others arrested with him were tortured to death.
Human Rights Lawyer Ousainou Darboe is the leader of the UDP. He and his executive took to the streets and were intercepted by the paramilitary police less than half a mile from the US Embassy along Kairaba Avenue. Amateur photos and video footages show security forces including the military using guns to hit protesters, arresting many, and wounding some.
It has angered Gambians and caused a barrage of condemnations and worldwide protests. Darboe and at least 18 others are now facing charges at the High Court in Banjul for inciting violence.
An outraged nation
It is not the first time President Yahya Jammeh (accused by rights groups of arbitrary arrests, torture and extra judicial executions) has caused an international outcry.  In August 2012, to the dismay of Gambians, Jammeh lifted a three decade moratorium on the death penalty executing at least nine death row inmates without following due process.
Gambians are outraged at the way security forces used excessive forced to suppress a peaceful protest. Some of the protesters were senior citizens. But it did not come as a surprise to those who witness President Yahya Jammeh's security detail attack journalists and demonstrators at the Hay Adams, a couple hundred feet from the White House.
In Washington DC, Edinburgh, Paris, London, Atlanta, Stockholm, and Dakar, Gambians have taken to the streets echoing that they will not relent in their pursuit for justice, freedom, and democracy amid their Government's crackdown on a rare opposition protest.
The UN, EU, AU, ECOWAS, Human Rights Watch, Amnesty International, Socialist International, Article 19, United States, and the UK have all asked for the peaceful protesters to be released and required of the Gambia to conduct an independent finding and bring those accountable to justice. But President Yahya Jammeh, who has made himself a notorious anti-Western propagandist, says he will "not leave his national security in the hands of dogs."