Former Gambian president's son in deep trouble with the law over graft allegations
Rate this title
Jawara facing at least 13 counts of economic crimes, 6 for abuse of office, 6 for neglect of official duty, and more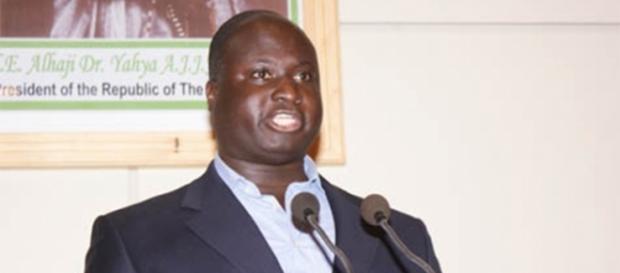 Ebrima Jawara, son of The Gambia's former President Sir Dawda Jawara is battling a 32 count charge over some missing GMD D8 million (USD $216,216) with at least three other staffers from his office. Jawara was indicted by state prosecutors on economic crime charges with abuse of office, neglect of official duty, disobedience to statutory duty, theft by taking, and evidence destruction.
A criminal complaint filed in court said Mr Jawara with Sulayman Manneh, Alasan Bah, and Hassan Jallow made payouts to themselves without approval and covered the payments as fuel allowances. The fuel log was said to be destroyed by them. Jawara is further accused of taking an additional GMD 300,000 loan for personal use. The senior staffers of the country's Department of Agriculture approved payments and awarded contracts disregarding financial protocols and procurement regulations.
Jawara got appointed to four new senior positions in the Agricultural ministry -- Director of the Central Coordinating Unit, Acting Project Director for the NEMA Project, Acting Project Director of the West Africa Agricultural Productivity Program and Project Director of the Gambia Commercial Agricultural and Value Chain Management Project, where he will also be the accounting officer for the World Bank funded program. He was previously the Permanent Secretary at the Ministry of Agriculture and the Office of the President respectively.
Long history of arrests and detention at Department of Agriculture
Senior Staffers, especially agricultural project directors have been facing charges of corruption and the country's President Yahya Jammeh accused them of holding the sector at ransom. Banjul observers said Mr.
Jawara was setting himself for a long prison term by taking up four jobs at the financially handicapped ministry.
The director of an IFAD funded NEMA project, Mr. Momodou Gassama was detained for months by the country's intelligence agency on multiple occasions and the family of a former Agriculture Deputy Minister Ousman Jammeh said he is detained incommunicado for four months now. Last summer, at least six senior officials from the same ministry: Mr Fafanding Fatajo, Mr Burang Danjo, Madam Ada Gaye, Mr Bakary Kujabi, Mr Lamin Fatajo, and Mr Omar Jammeh were committed to custody.
In June 2014, there were mass arrests and dismissals of top officials including Technical Project Manager of FAO FASDEP Dr Kujejatou Manneh, Agric Business Services Director Chernor Mballow, Extension Service Deputy Director Musa Dampha, FAO Project Component Coordinator Amie Jallow, Rural Finance Project Coordinator Lamin Fatajo, FASDEP Coordinator Fafanding Fatajo, Cowpea Project Coordinator Joko Kutubo Sanyang and Regional Director for Agriculture in URR Mr Mbemba Dahaba.
President Yahya Jammeh has been minister of agriculture for most of his rule in the West African nation and said over a USD $100 million has been spent in projects during his tenure without progress and sustainability. He has initiated an ambitious VISION 2016 self-sufficiency agenda to end the importation of rice in country, which has been largely dismissed by experts as unattainable given the short time frame.
Jammeh ousted Jawara's father in a 1994 coup. He was his personal bodyguard. Ebrima Jawara became an ally to Jammeh after writing a book chronicling Jammeh's infrastructural development projects and supporting the overthrow of his father's thirty-year regime.
Click to read more
and watch the video
or