The Gambia has a large number of Mauritanians who own businesses across the country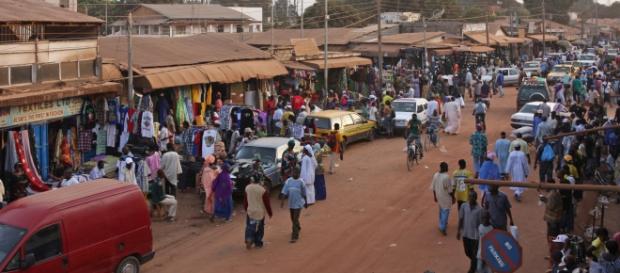 Armed robbers attack business owner
A gang of armed robbers attacked and seriously hurt a Mauritanian business owner in the border city of Jimala Kerr Malick, north central Gambia. The suspects, who were armed with guns and machetes kidnapped Mr. Muhammed Muctarr from his home and had him lead them to his store at about 2AM before forcing him to open his cash vault.
Police did not say if Mr. Muctarr initially resisted or if there was any ensuing fights but he was left with serious injuries to his head. Pictures of a bloodied Mr Muctarr saw a cut to the left side and back of his head and to the right of his forehead. He was taken to Farafenni General Hospital, about 75 miles from the capital, Banjul for treatment.
The armed robbers made away with GMD 100,000 (USD $2,702), an LED TV, satellite TV receiver, a DVD player, and other valuables. Armed robberies are not common in The Gambia but most happen around the country's border villages with Senegal. It makes it more difficult for law enforcement to track the bandits along the porous borders
There are no travel restrictions in The Gambia but the US State Department warned its citizens to be cognizant of the border between Senegal and the Gambia and make a concerted effort not to stray into the Cassamance, which is the south, where a lot of robberies happen in border towns. Although there is a de-facto cease fire in place, the danger in the area has resulted in an US Embassy policy severely restricting travel into the Cassamance and adherence to U.S.
Embassy Dakar's guidance on the area.
Except for regular roadblocks, there is limited visibility of police presence in The Gambia's border cities. The ability of the police to respond quickly is also virtually non-existent. Police lack training, equipment, and resources (radios, vehicles). The vast majority of police are not armed. The force is a reactionary force and cannot maintain large-scale or long-term proactive operations, according to the Overseas Security Advisory Council.
Kebba Ansu Manneh is a local journalist in the area and he chronicled similar incidents in the Lower Saloum District. Manneh said in 2014, armed robbers amputated the hand of a shop owner, and possibly the same armed robbers carried out an attack on a business in the city of Ballangharr a couple of weeks ago.
Gambia is home to many Mauritanians and Lebanese citizens who own businesses across the West African nation. They are key players in the country's economy and influential in the business community. Mr. Muctarr, who works for the Jawara Family Enterprise has been discharged from the hospital and police have advised business owners and residents to be vigilant, especially at night and to report any suspicious activities.
Click to read more
and watch the video
or