African dictator who wants KKK, White supremacist groups listed as terror organizations
Rate this title
President Jammeh interferes with judiciary system sending to jail his critics, rights activists and political opponents without due process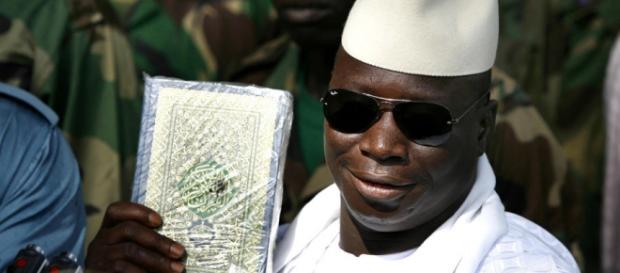 Somewhere in West Africa, in a small country called The Gambia is a dictator who dresses in a white gown, carries a stick, a Qur'an and prayer beads. His name is Yahya Jammeh but he wants his subjects to call him a bizarre long name: His Excellency Sheikh Professor Dr Alhagie Yahya Abul Aziz Jamus Jukung Jammeh Babili Mansa. His regime is notorious for kidnapping citizens, torture, extra judicial executions, arbitrary arrests, and incommunicado detentions. President Yahya Jammeh is eccentric. He made some of the weirdest statements you have ever heard – not even Donald Trump can beat him at that. If you think Trump is unpresidential, well meet Mr Jammeh.
Jammeh, 50, claims he can cure HIV/AIDS using herbs and bananas, declared his country an Islamic state without a referendum, pulled it out of the Commonwealth calling the organization a "neocolonial hegemony," and arrested tens of senior citizens accusing them of witchcraft after his aunty died. Don't be surprised, his best friend and mentor was former Libyan dictator, Mommar Ghadafi.
KKK is a terrorist group
Last month, the dictator of the nation known as the North Korea of Africa said this: "If they are calling ISIS and Al-Qaeda terror groups, the KKK and all those white supremacist groups should also be listed as terrorists groups."
You never know what Jammeh will do. He might make his own list of terrorist groups, publish it on his Government's behalf and that will definitely include the Ku Klux Klan. But while many won't disagree with him here, the only issue is that since he came to power through a military coup in 1994, many have died and have gone missing without a trace.
He rigged elections and has sworn to kill anyone who attempts to take him out of power.
Jammeh: The man who hates the West but literarily lives there
Jammeh received military training in Alabama and Goergia. Upon his return, he took over the government. Jammeh says he is Pan-African and hates the West. His country, The Gambia, is one of the poorest in Africa and highly dependent on foreign aid.
But Jammeh calls the foreign aid "chicken change," and accuses the Western nations including the United States of trying to remove him from power. Yahya Jammeh owns a $3.5 million mansion in Potomac, Maryland; owns mansions in France and Romania and is reportedly worth about $1.2 billion dollars. He is richer than his country whose GDP is at $800 million. His wife Zinab Jammeh loves shopping in America and his family only eats food products from Costco and Sam's Club. All his children, Mariam and Mohammed were born in the United States and attend a school on Wall Street – Lehman Manhattan with a price tag of $100,000 tuition plus incidentals.
Jammeh security forces shoot at protesters
Last week, his security forces shot at peaceful protesters, threw tear gas at them, beating them with their rifles, arrested them and threw them in prison because they demanded electoral reform. It was as if Jim Crow was in place in The Gambia and a Selma somewhere in Africa. But 16 years ago, his security forces killed more than 14 students who were protesting the torture death of a high school boy and the rape of a 13-year-old girl in the hands of the police. Jammeh woke up one day in 2012 and swore to kill all death row prisoners. The following week, he killed nine of them without following due process.
It takes away from Jammeh the right to criticize colonialism or the Ku Klux Klan for he is subjecting his citizens to the same or worse treatment. When passing by in his stretch Hummer 2 limousine, Jammeh will rise from the rooftop and those that do that stand up on the side of the road to waive at him or sing praises of him as he throws biscuits at them are beaten by his security soldiers.
Click to read more
and watch the video
or